Gold steadies after recovering from US data knock
LONDON, Sept 9 (Reuters) - Gold was little changed within sight of its recent all-time highs on Thursday, recovering from an earlier drop on upbeat U.S. labour data as investors remained unconvinced of the resilience of the world's largest economy. Gold has risen by some 15 percent in 2010 as economic uncertainty has unleashed a wave of investment in perceived safe-haven assets.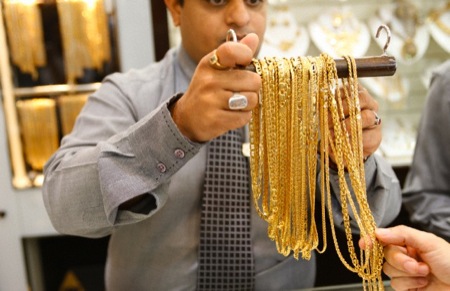 Gold market in Dubai
Spot gold XAU= was bid at $1,254.40 an ounce at 1437 GMT from $1,254.50 late in New York on Wednesday and less than 1 percent below June's record high at $1,264.90 an ounce. Earlier it fell to $1,250.30 an ounce.
U.S. gold futures for December delivery GCZ0 were last down $1.5 at $1,256.00 an ounce.
In Europe, equities rose and government bond prices fell on the back of the U.S. data and on Ireland's decision to wind down lender Anglo Irish Bank in the coming weeks, which boosted investor risk appetite.
"(Gold) got a bit of a lift from concern over sovereign debt and European banks earlier in the week, but that has faded and it's tough to find -- although the general climate, you could argue is positive -- ... to find a near-term catalyst to keep propelling the market higher and probably one of the reasons that we haven't hit new highs," said James Steel, an analyst for HSBC in New York.
GROWTH RISK
However, the risk of slower global growth remained in the background, and analysts said gold looked unlikely to shed its appeal as a safe-haven investment any time soon. "We are still in a situation where confidence ebbs and flows
pretty rapidly from day to day, and sometimes from hour to hour, and morning to afternoon as the data comes in and changes people's opinions," said Credit Suisse analyst Tom Kendall.
"The rally has done a lot, and it is looking a little tired right now, so we wouldn't be surprised to see it consolidate, or come off a bit before trying again," he said, adding gold was likely to trade through $1,300 through the end of this year.
U.S. weekly initial jobless claims fell to a two-month low last week, while the trade deficit narrowed by more than expected in July.
Gold hit its high in June as concern over the impact of the European sovereign debt crisis and as the U.S. economic recovery came into question.
The U.S. economy has shown "widespread signs" of slowing over recent weeks, the Federal Reserve said on Wednesday in a report, suggesting that while the recovery has been faltering, the economy may skirt a second recession.
"Sentiment is waning and rising; it's like a tide," a trader said. "I'm not sure where it's going to end. Guess we need to see a few more data points." In fundamental news for gold, the South African statistics office said gold output fell 3.4 percent in volume terms, while total mineral production fell 1.0 percent in July.
Gold output has been dwindling in South Africa, which is expected to drop in the rankings to the world's fifth-largest producer this year from fourth in 2009, according to Reuters data.
In other precious metals, silver XAG= was bid at $19.99 an ounce, against $19.88 on Wednesday when it hit its highest level since early 2008, as investors sought a cheaper safe-haven alternative to gold.
In the platinum group metals, traders kept an eye on developments at South African miner Northam Platinum, where union members are currently on strike and say action may continue for months.
Platinum XPT= was last quoted at $1,558.00 an ounce, compared with $1,554.00 the day before, while palladium XPD= was at $525.50 compared with $522.00 on Wednesday.
(Additional reporting by Pratima Desai; Editing by Jane Baird)
© Thomson Reuters 2022 All rights reserved.