Gold slides as Japan crisis slams markets
Mar 15 - Gold prices fell more than 2 percent on Tuesday, but were well off their lows, as rising fears over Japan's nuclear crisis hit global financial markets, prompting a flight to liquid assets like cash.

Platinum group metals also fell sharply as a potential radiation catastrophe dampened demand expectations from Japan's powerful auto industry.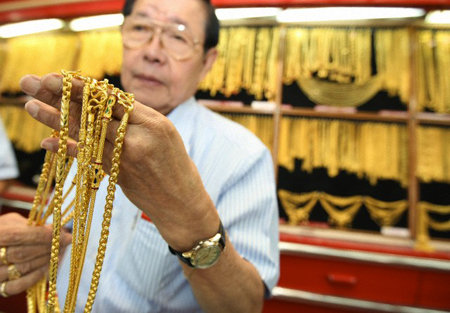 Gold market in Bangkok (January 2011)
"We have a risk-off trade going on as a result of the issues in Japan. There has been institutional liquidation and other liquidation globally as people are choosing to raise cash at this moment," said James Steel, chief commodity analyst at HSBC bank.
Spot gold fell as low as $1,380.90 an ounce and was later down 2.1 percent at $1,396.75 an ounce by 12:25 p.m. EDT (1625 GMT). U.S. gold futures for April delivery lost 2 percent to $1,396.50.
Fear of heavy economic repercussions in Japan pounded world stock markets on Tuesday, shredding $1 trillion in equity valuations as investors dumped assets considered risky and sought the safety of government debt.
Silver tumbled as much as 6 percent to a low of $33.56 an ounce, and was later down 3.8 percent at $34.48 an ounce.
Platinum prices shed as much as 3.5 percent, falling to their lowest level since mid-December at $1,687.99 an ounce. They were later down 2.7 percent at $1,701.99 an ounce.
Palladium fell as much as 7.5 percent to $684.50 an ounce, its fifth day of losses and its longest losing streak since early August. It later dropped 5.4 percent to $699.97.
Major Japanese car makers, including Toyota, Nissan and Honda, stopped vehicle production following Friday's earthquake, which crippled roads, railways and ports. Carmakers are the biggest consumers of platinum and palladium.
According to refiner Johnson Matthey, Japan was the largest single national user of platinum in 2010, and accounted for 18 percent of global autocatalyst demand of 2.985 million ounces.
(Reporting by Frank Tang)
© Thomson Reuters 2022 All rights reserved.