Gold fabrication set for biggest rise since 2000
March 29 - Gold demand to make jewelry, dental fillings and in electronics will jump by more than 5 percent this year, the biggest rise since 2000, metals research and consultant CPM Group said on Tuesday.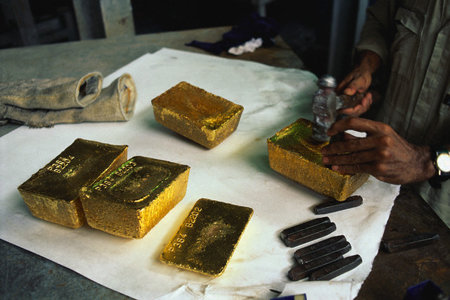 Pure gold ingots get stamped for export in the foundry of Lihir mine in Papua New Guinea
The New York-based company said fabrication demand for the metal notched a slight gain for the first time in three years in 2010, recovering from an 18-year low in 2009, aided by forecasts that the price of bullion may begin to plateau after more than doubling in four years, analysts said.
Net investment for bullion gained 24 percent for a third consecutive year to 33.8 million ounces last year, driven by gold demand as a hedge against economic uncertainty and inflation, the New York-based company said in its Gold Yearbook 2011, sponsored by miners, exchanges and smelters.
"Global economic activity showed signs of recovery during 2010. Despite these improvements, there was heightened investor concern about the possibility of another recession and worsening financial market conditions," CPM Group said.
Last year, gold benefited from increased investor buying on a combination of ongoing economic worries, volatile currency markets, an European sovereign debt crisis and mounting fiscal imbalances, CPM Group said.
Gold fabrication demand rose 0.6 percent to 76.8 million ounces in 2010, as strong industrial demand more than offset a slight decline in gold jewelry. Fabrication buying is expected to rise another 5.2 percent in 2011, CPM said.
In the investment sector, holdings in gold-backed exchange-traded funds (ETFs) increased to 70.5 million ounces by the end of 2010, up 11.3 million ounces from the previous year, while gold futures and options trading volumes increased 20.9 percent in 2010 to 6.4 billion ounces.
Official-sector gold holdings totaled 10.2 million ounces in 2010, the third consecutive year that net official buying was positive. However, growth in the sector has slowed compared with the 16.8 million ounces in 2009.
Renewed interest by central banks have benefited gold prices in the past several years, as the official sector as a group has largely been a net seller of gold in the past 45 years, according to the CPM Group.
On the other hand, total supply rose 0.3 percent to 120.8 million ounces in 2010, as mine output more than offset a decline in gold recycling.
"Despite rising prices, which typically trigger increases in secondary supply, many consumers withheld from selling their gold items in anticipation of higher prices in the near future," CPM Group said.
On Tuesday, spot gold XAU= slipped 0.2 percent to $1,417 an ounce. Year to date, bullion was nearly flat as prices retreated after rallying to a record high of $1,447.40 an ounce last week.
(Reporting by Frank Tang; Editing by Lisa Shumaker)
© Thomson Reuters 2023 All rights reserved.