Gold extends rebound on equities, physical buying
(Reuters) - Gold rose to hold above $1,200 an ounce on Thursday on steady purchases from jewelers and other physical buyers after a recent drop to a six-week low, while sentiment was also lifted by gains in equities markets.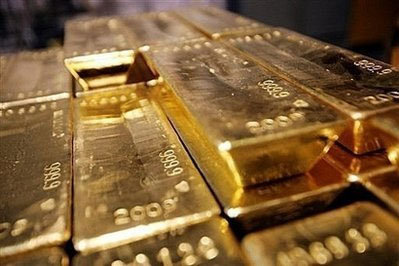 Photo: AFP/File/Sebastian Derungs
The Nikkei jumped nearly 3 percent after U.S. stocks logged their best one-day gain in about six weeks on optimism about the coming earnings season, discouraging speculators from selling gold to cover losses in other markets. .T
Gold added $1.80 to $1,203.65 an ounce by 0537 GMT (1:37 a.m. EDT). It had dropped to its weakest since May 25 at $1,185.05 on Wednesday, or around 6 percent below a record high above $1,264 struck in late June, before regaining strength.
Traders said gold would have to crack a June level of around $1,230 to sustain gains, but that a rebound to the current level had prompted investors to start accumulating long positions again. Silver, platinum and palladium also bounced from Wednesday's lows.
"There will also be people who start to see that the decline of the past few sessions is healthy and allows technical indicators to unwind from their overbought conditions," said Ong Yi Ling, investment analyst at Phillip Futures in Singapore.
"Tough resistance will be that $1,230 level. If it can go pass that level, it will really signal a return to the bullish uptrend."
U.S. gold futures for August delivery rose $5.4 an ounce to $1,204.3 an ounce.
The physical sector saw buying interest from Indonesia and Thailand, but consumers were not too aggressive after prices crossed $1,200 level again.
The world's largest gold-backed exchange-traded fund, SPDR Gold Trust (GLD.P) said its holdings were unchanged at 1,316.481. The holdings hit a record at 1,320.436 tonnes on June 29.
"There's still some buying but I guess most people are now waiting for delivery. Physical buying is still there and my premiums have gone up to 80 cents," said a physical dealer in Singapore, who offered gold bars at 70-cents premium earlier this week.
Jewelers in India have been stocking up ahead of religious festivals, and other physical buyers in Asia snapped up bullion after prices fell.
India, which accounts for more than 20 percent of global demand, will celebrate the Hindu festival of Raksha Bandhan on Aug 24, Janmasthami and Ganesh Chaturthi in September.
A firmer euro also supported gold. The single currency rose to a two-month high against the dollar on Thursday, with an upbeat day on Wall Street underpinning improved tolerance for risk.
The European Central Bank holds a news conference later in the day after its monthly meeting, and will face pressure to say whether Europe-wide stress tests on banks will be tough enough to convince markets of their worth.
Gold had hit a lifetime high on worries the European debt crisis would spread and the U.S. economy was slowing.
The global economy is unlikely to slip back into recession over the next few years, although such a scenario is not impossible, the International Monetary Fund's chief economist Olivier Blanchard said on Thursday.
(Editing by Himani Sarkar)
© Thomson Reuters 2022 All rights reserved.