Gold edges up, silver rises; China data seen to support
May 11 - Gold firmed a touch and silver rose more than 2 percent on Wednesday, as concerns about China's high inflation and waning economic growth are seen buoying interest in precious metals.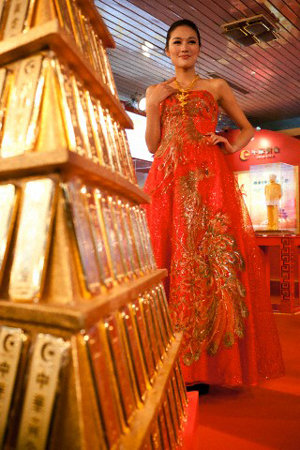 Models show gold jewellery at the China International Jewellery Fair in Beijing, China 11 November 2010
China's inflation in April was stronger than expected, at 5.3 percent on the year, while industrial output was considerably weaker than forecast.
High inflation and lower economic growth in China, the world's second-largest economy, are likely to dampen risk appetite and support interest in gold, though reaction to the data was muted.
Spot gold rose by half a percent to $1,522.96 an ounce by 0615 GMT, building on gains in the past three sessions.
U.S. gold edged up 0.4 percent to $1,523.10.
"Gold is generally benefiting from the return of confidence from investors," said Darren Heathcote, head of trading at Investec Australia. "They are very happy buying on the dip, as we see the same old problems hanging around."
Growing concern over Greece's fiscal status, dollar weakness and high oil prices continue to fuel nervousness in the financial markets, driving investors to seek safe haven in bullion.
Brent crude was steady near $118 after a jump in China's implied oil demand to the third-highest level on record showed that Beijing's efforts to cool the economy of the second-largest oil consumer are doing little to dent use.
Holdings in the SPDR Gold Trust remained unchanged at a one-year low, but those in the iShares Silver Trust, the world's largest silver-backed exchange-traded fund, extended a rise of 3 percent in the previous session and edged up 0.2 percent to a one-week high of 10,585.99 tonnes by May 10.
Spot silver rose as much as 2.3 percent to $39.34, before easing to $39.19, on course for a fourth straight session of gains. COMEX silver gained nearly 2 percent to $39.22.
Silver prices plunged more than 25 percent last week and gold nearly 5 percent, prompting buying in the physical market in Asia, dealers said.
"We saw buying when gold dipped below $1,500 from China, India and Indonesia, but not much scrap selling, as people are still bullish on gold," said a Hong Kong-based dealer.
Technical analysis echoed bullish sentiment in the physical market, as it indicated that gold could rise to $1,531 in the next 24 hours, said Wang Tao, a Reuters market analyst.
"It's not beyond reason for gold to reach another record high, but the sell-off last week made some investors more cautious," said Heathcote of Investec Australia.
"They are not fully committed as yet and are more willing to take profit after decent gains. So it may take a while to see a new record."
Platinum group metals rose in tandem with gold and silver. Spot platinum edged up 0.3 percent to $1,798.99 an ounce in its fourth day of rise, and spot palladium rose by 0.7 percent to $730.22.
(Reporting by Rujun Shen; Editing by Clarence Fernandez)
© Thomson Reuters 2022 All rights reserved.