Gold climbs towards $1,080/oz as dollar slips
By Jan Harvey

LONDON, Feb 11 (Reuters) - Gold rose towards $1,080 an ounce in Europe on Thursday 11 February as hopes other European countries would bail out debt-laden Greece boosted the euro versus the dollar, lifting gold's appeal as an alternative to the U.S. unit.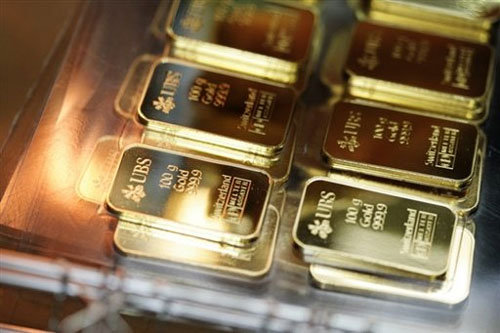 Photo: AFP
Spot gold XAU= was bid at $1,078.60 an ounce at 1101 GMT, against $1,071.55 late in New York on Wednesday 10 February. U.S. gold futures for April delivery GCJ0 on the COMEX division of the New York Mercantile Exchange rose $3.20 to $1,079.00 an ounce.
"The gold price is trading in sympathy with the euro/dollar this morning as markets are waiting for confirmation and details of a potential bailout plan to Greece by euro zone member countries," said BNP Paribas analyst Anne-Laure Tremblay.
"While the details of a plan are unlikely to be given today, an explicit commitment to support Greece would probably provide some reassurance for markets," she added.
The euro EUR= climbed 0.14 percent against the dollar on Thursday 11 February, boosting gold prices, as hopes grew for a bailout of debt-laden Greece. [FRX/]
European Union leaders will lay the groundwork for a financial rescue of the country at a summit this session, but any support is likely to require a big commitment from Athens on getting its economy in order.
"There is the possibility that lingering concerns around the balance sheets of euro zone governments will buoy the dollar, weighing on gold," said National Australia Bank in a note. "That said, we are not expecting dollar strength to prevail."
The dollar is benefiting from euro weakness rather than any innate strength of its own, analysts said, and so could be due a correction if and when euro zone debt problems are resolved.
Among other commodities, oil prices climbed towards $75 a barrel on Thursday 11 Februaryas a positive assessment of demand growth and hopes for a rescue plan for Greece buoyed prices. [O/R]
CHINA BUYS
On the physical markets, analysts reported good demand for gold in Asia ahead of the Chinese New Year holiday beginning this weekend.
"Even if Chinese demand slows during and after the Chinese New Year festivities, gold demand in India and other emerging nations appears likely to remain firm and at the least provide a cushion to prices," said HSBC in a note.
Holdings of the world's largest gold-backed exchange-traded fund, the SPDR Gold Trust (GLD), were steady on Wednesday 10 February. The fund reported its first inflow this year after prices fell to three-month lows on Friday 5 February, but holdings have since steadied. [GOL/SPDR]
On the supply side, South Africa's statistics office said gold mine output fell 8.8 percent in December in volume terms. The republic was the world's third-largest mine producer in 2008 with output of 233.3 tonnes.
But South Africa's fourth-biggest gold producer, DRDGOLD (DRDJ.J), reported a 4 percent rise in gold output for the quarter to December and a return to profit owing to lower operating costs.
Among other precious metals, silver XAG= was at $15.38 an ounce against $15.18. Platinum XPT= was at $1,519 an ounce against $1,507, and palladium XPD= at $416 against $411.50.
Aquarius Platinum (AQP.AX) said in a conference call it sees attributable platinum group metals production at 445,000-450,000 ounces this year.
Constraints on platinum output from South Africa this year are a potential support to prices going forward. South Africa is the source of four out of five ounces of mined platinum supply.
(Editing by Sue Thomas)
© Thomson Reuters 2023 All rights reserved.