Gildan profit drops 85 pct, suspends '09 outlook
* First-quarter EPS 4 cents vs 23 cents
* Revenue $184 million vs $250.5 million
* Suspends earnings forecast for fiscal 2009 (In U.S. dollars unless noted.)
CALGARY, Alberta, Feb 11 (Reuters) - T-shirt maker Gildan Activewear Inc (GIL.TO) said on Wednesday its first-quarter profit slumped 85 percent as demand for its products fell because of the worsening economy.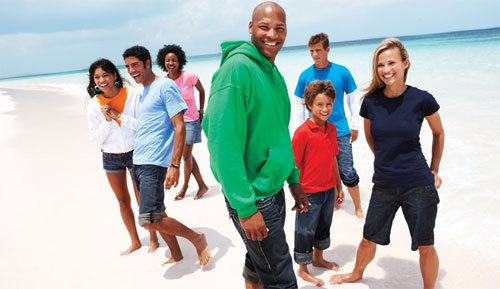 Gildan spring-summer 2009
The Montreal-based company also suspended its earnings guidance for the 2009 fiscal year because of economic uncertainty and the impact of the economic crisis on its markets and customers.
Gildan said net income in the quarter ended Jan. 4 fell to $4.3 million, or 4 cents a share, from $27.9 million, or 23 cents a share, a year earlier.
The profit was within the nil to 5 cents per share target the company forecast in December.
Analysts had expected, on average, earnings per share of 4 cents before items, according to Reuters Estimates.
Demand for the company's T-shirts, used for logos and other designs, has been extremely weak, mirroring the rapid economic and financial market downturn, resulting in a dramatic curtailment of consumer and corporate spending.
Gildan said the profit drop was due to significantly lower sales combined with high cotton and energy costs. As well, it said it had an unfavorable active-wear product mix and boosted its provision for delinquent accounts.
Net sales in the quarter fell 27 percent to $184 million from $250.5 million in the first quarter of fiscal 2008.
The company was expected to post revenue of $215.6 million, according to Reuters Estimates.
Gildan shares, which have fallen 67 percent in the past year, closed down 3 percent at C$12.55 on the Toronto Stock Exchange.
($1=$1.24 Canadian) (Reporting by Scott Haggett)
© Thomson Reuters 2022 All rights reserved.