From catwalk to laptop, fashion houses embrace web
By Marie-Louise Gumuchian
MILAN (Reuters Life!) - Photo blogger Tommy Ton used to wait outside exclusive venues for fashionistas to arrive and leave catwalk shows, but at the latest Dolce & Gabbana womenswear run this season, he proudly sat in the front row.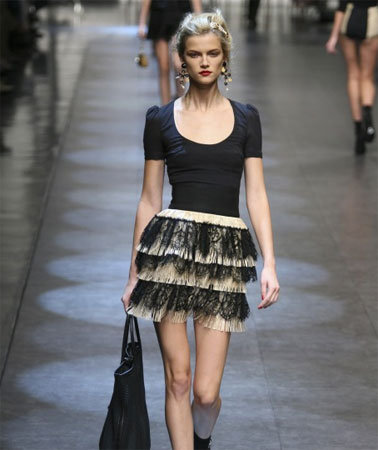 Dolce & Gabbana spring-summer 2010 in Milan - Photo: Pixel Formula
Sitting close to the creme de la creme of fashion editors -- Vogue's Anna Wintour and Glenda Bailey of Harper's Bazaar -- the Toronto fashionista excitedly blogged about his privileged treatment in Milan on his site www.jakandjil.com from his seat.
"I've been going (to fashion week) for two years and I was lucky if I even got a response," he told Reuters. "But being embraced by Dolce & Gabbana, that was a defining moment."
Soon after his success in Milan, French maisons sent him invitations to Paris fashion week, eager to have him at their shows.
Fashion brands, increasingly aware of the power of bloggers, are making room for them in their front-row seats to try to grab consumers before they visit their stores.
For years, traditional houses have shunned the Internet, seeing it mostly as a place for those in search of bargains.
But as younger buyers and working women are set to replace aging customers as the main luxury consumers, the Web and its social networking sites represent strong prospects for growth.
In the September fashion week run, such design houses as Louis Vuitton, Dolce & Gabbana and Alexander McQueen, streamed their catwalk shows on the Internet.
Facebook is full of brands, including Vuitton, Gucci and Burberry with hundreds of thousands of fans, who also voice their passion for fashion on Twitter.
"The more you can open up your brand to the client, the better," Gucci designer Frida Giannini told a luxury conference in Berlin last month.
FASHION DOTCOM
Many fashion brands have opened online stores in the last year, including Salvatore Ferragamo and Roberto Cavalli. Hugo Boss, which sells on the Internet in Europe, plans for online stores in Asia and in the United States.
"We try to understand the online shopper in a deep way," Chief Executive Claus-Dietrich Lahrs told the Berlin conference.
Giorgio Armani has a mobile phone platform for e-commerce, so users can shop for Emporio Armani items from their handsets.
Prada is looking at selling online products that have yet to make it into its stores.
"In five years, 30 percent of (fashion) goods will be sold on the Internet in America," Prada Chief Executive Patrizio Bertelli was quoted in Italian newspapers as saying, without giving a comparative figure.
When Italian online fashion retailer Yoox launched in 2000, there was a lot of "skepticism about the Internet in general and online sales," founder and Chief Executive Federico Marchetti told Reuters.
Now it also operates retail sites for brands like Valentino and Marni. Yoox is poised for an initial public offering this week in Milan.
"Increasingly fashion brands are shifting their communication budgets to the Web, and have a greater understanding of its potential and in particular they now are all requesting an online store," he said in emailed comments.
Luxury groups are focusing on winning customers as they emerge from the worst economic crisis in decades. Bain & Co, a consultancy, expects luxury sales to fall 8 percent this year to 153 billion euros.
While online sales are unlikely to make up the difference soon, consumers' growing confidence and comfort in using the Internet to shop provide positive signals.
Bain says "luxury shame" -- the fear of being seen shopping for luxurious items in a recession -- is also helping. It sees 2009 online luxury sales up 20 percent to 3.6 billion euros -- representing 2.35 percent of total luxury sales this year.
Luxury goods companies "were very traditional in their advertising methods and tools and in what they thought of consumers," Bain partner Claudia d'Arpizio said.
"Now they understand the consumer age is different and their values are changing so (they) need different tools to attract and interest them."
In the United States, while most sectors of the economy experienced a downturn in the first quarter of 2009, online sales for 80 retailers rose by an average 11 percent, according to a report by the Organization for Economic Cooperation and Development.
Ferragamo Chief Executive Michele Norsa said he saw its online store becoming "a nice shop" next year with "several million euros" in sales.
Echoing Norsa, Valentino's top executive, Stefano Sassi, said its store that sells accessories and its younger line was "in constant growth."
ALLURE OF THE WEB
The Web's allure is easy to understand. Designers can present their creations directly to customers without relying on media reviews, which may not be favorable.
Designers can also save on advertising, especially as they cut marketing budgets.
When it comes to global advertising, the Internet is the only medium expected to expand -- with 9.2 percent growth forecast for 2009 -- while all other media are set to shrink, according to media agency ZenithOptimedia.
"(The Web) is very important by the sheer fact people are spending more time online, on Facebook, Twittering," Emanuel Ungaro Chief Executive Mounir Moufarrige said.
He said online and glossy magazine ads were complementary.
One challenge fashion houses will face will be how to deal with the lag between photos of new collections going online as they are presented and them hitting the stores six months later, when they could seem dated.
"If you're an artist and the only one who can come up with those color combinations and those prints ... people will wait as long as they have to," said Scott Schuman, a fashion industry veteran-turned-blogger through his The Sartorialist site.
"If you're just an everyday designer and you've just come out with some thing and somebody else can do it better, cheaper or get it to (consumers) faster, they'll buy that."
With new Web ventures like Dolce & Gabbana's magazine Swide and Burberry's social network site www.artofthetrench.com, many maisons are constantly thinking of new online tools to woo fans.
"It's marketing as usual, this just happens to be the new thing," Schuman said.
(Additional reporting by Astrid Wendlandt in Berlin, editing by Paul Casciato)
© Thomson Reuters 2023 All rights reserved.