French sales spending up 2-5 pct-associations
By Noelle Mennella
PARIS, Jan 12 (Reuters) - Shoppers spent more in the opening days of France's winter sales than last year as retailers offered bigger discounts to shift stock after a lacklustre Christmas period, retail associations said on Monday.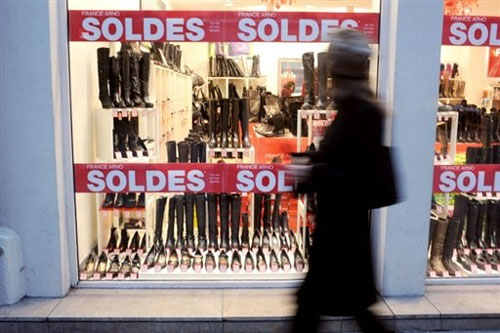 Photo : Fred Dufour/AFP
Takings rose 2-5 percent in the first three days, including at flagship department stores Galeries Lafayette, Printemps and BHV, according to UCV, an organisation grouping 600 stores representing sales of 8.7 billion euros ($11.7 billion).
Sales at Monoprix, a joint venture between Casino (CASP.PA) and Galeries Lafayette, jumped by a fifth, whilst revenue was stable at clothing chain C&A, UCV President Claude Boulle said in an interview.
Retailers slashed some 10 percent more off prices this year than in the 2008 sales, according to the national council of shopping centres, the CNCC.
"I have the impression that it was necessary to do a bit more than last year to stimulate consumers," CNCC head Jean-Michel Silberstein told Reuters in an interview.
UCV's Boulle added that the performance by department stores in the opening days of the sales, which run from Jan. 7 until Feb. 4, was "a pleasant surprise".
Bigger rises were seen on the Internet, where e-commerce and phone sales federation Fevad reported 13 percent revenue growth in the first two days, compared with a year ago.
France's winter sales started a few days earlier this year thanks to regulatory changes allowing more flexibility but will last five weeks as opposed to six weeks previously.
Retailers are keen to rake in as much cash as possible as they need to pay for stock for the spring/summer season items they have already ordered.
Many analysts expect this year's sales season will take its toll on margins as retailers are allowed to sell at a loss to get rid of excess stock following the bleak Christmas season. (Writing by James Regan)
© Thomson Reuters 2023 All rights reserved.