Forget the shuttle, take a Hermes chopper to the airport
TOKYO (Reuters) - Got to get to Narita airport from downtown Tokyo but pressed for time? Soon you will be able to hire a Hermes helicopter -- and make it in just 30 minutes.
Japanese property developer Mori Building Co is launching a 30-minute luxury helicopter and limo service between a rooftop in the central district of Akasaka and Narita International Airport, normally a 70 km (44 miles) ride that takes an hour and a half.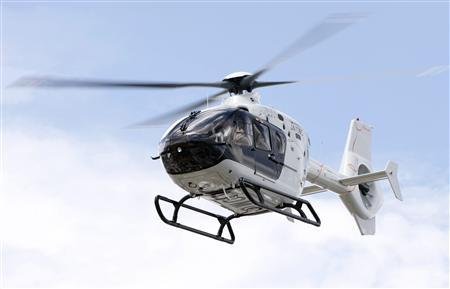 Apart from helping cut travel time, the city's first such service will allow passengers to look down on Tokyo from the luxury of the rich-brown calf-leather seats of a $10 million EC135 model designed by French luxury brand Hermes.
The white chopper with ribbons in the classic Hermes orange painted along the sides can carry four passengers and will operate up to 22 flights a day starting September 16.
The helicopter -- dubbed the "l'Helicoptere par Hermes" -- is the first Hermes chopper in Japan and is part of a fleet of Eurocopters to be used for the service.
The chopper service is between Akasaka and Sakura heliport near Narita with a limo to ferry people from there to the airport.
Of course, the ride doesn't come cheap: passengers will have to fork out 75,000 yen ($790) for a one-way ride.
"This service is for business executives who want to buy time," said Mori Building spokeswoman Kyoko Morisawa. "But I'm afraid no food or drink services will be offered on board."
($1 = 95.40 Yen)
(Reporting by Mariko Katsumura; Editing by Sugita Katyal)
© Thomson Reuters 2023 All rights reserved.