For luxury, all that glitters is gold
The year has certainly got off to a good start for luxury companies, with firms like LVMH, home to Louis Vuitton, reporting stellar results for the first quarter. No wonder – according to CLSA Asia-Pacific Markets analyst Aaron Fischer, resurgent emerging market consumers are fuelling a strong growth in the global luxury goods market.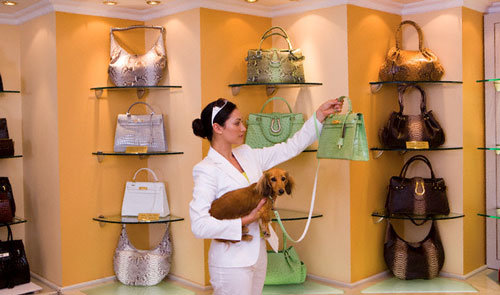 Photo: Corbis
Growth in the sector was double its long-term average last year, Fischer says. He has updated his bullish 2011 report "Dipped in Gold" and is particularly optimistic on established brands, predicting global growth of 10% in 2012, slowing slightly from last year's 14% rise:
However, we expect leading brands to continue to outperform, rising 15%, compared with the street's estimate of 12%, which seems far too low.

We look for emerging market consumers, especially when travelling, to drive robust sector growth in the medium term, posting a 15% demand compound annual growth rate in the next 10 years.
That should take emerging markets' share of global luxury demand to 73% by 2020, up from 50% at present, Fischer predicts, with China playing a leading role.
Already in European fashion capitals, and in favourite shopping destinations such as New York and Hong Kong, shoppers from emerging markets account for over 50% percent of luxury sales. And the home-grown brands that populate malls and department stores across China should gradually cede ground to big international players, Fischer says. What's more these new consumers don't seem too price sensitive — Fischer estimates that Chanel passed on 20% price increases to customers in 2011, without denting sales.
Luxury brands are also benefiting from the growing sophistication of consumers who aren't content with knock-offs anymore. Between 2008 and 2011, the proportion of Chinese consumers interested in buying fakes fell by more than half to just 15%, a McKinsey survey found.
Fischer's top stock picks include handbag maker Prada, which listed in Hong Kong last year. 33% of Prada and Gucci's sales come from mainland China, according to the report. But he also likes some Chinese luxury brands, naming leading shoe retailer Belle, jeweller Chow Tai Fook and Greater China department store firm Lifestyle.
But how has the luxury sector proved so resilient during an economic downturn? Fischer tackles the Wall Street bonuses equal big watches and nice handbags myth by explaining that only around 5 percent of luxury sales come from the financial sector.
So even with bonuses well off pre-crisis levels, the luxury sector has plenty of potential to shine.
© Thomson Reuters 2023 All rights reserved.