First lady's inaugural outfit in New York exhibit
By Ellen Wulfhorst
NEW YORK (Reuters Life!) - The ensemble worn by Michelle Obama on Inauguration Day goes on display on Wednesday 17 June, allowing the public a first close-up look at the design that helped earn the first lady praise for her fashion sense.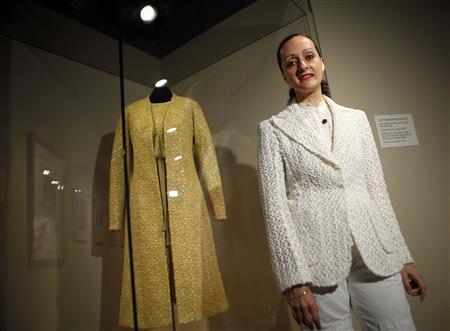 The sheath dress and matching coat appear in a retrospective of designs by Cuban-born Isabel Toledo, who held her first show in 1985 but was largely unknown outside the fashion world until Obama wore the outfit on January 20, 2009.
"This is now one of the most famous dresses in the world," said Valerie Steele, chief curator at The Museum at the Fashion Institute of Technology, which is hosting the exhibit. "It's become a piece of history."
"Even people who have little or no interest in fashion will be really interested to see this," Steele said.
The wife of President Barack Obama has won acclaim for her fashion style, particularly for mixing high- and low-end pieces and choosing little-known designers over industry stalwarts.
Even her choice of colors -- the Toledo dress is a muted yellow "lemongrass" -- is distinctive compared with most first ladies who largely wore red and blue, experts note.
"She's been able to balance a very precarious thing," said Patricia Mears, the FIT museum's deputy director. "On the one hand she has to look like a first lady. You've got to have a conservative but also powerful presence. At the same time I think she has very much understood she is a pioneer."
Obama's influence was noted at the annual awards festivities held on Monday 15 June by the Council of Fashion Designers of America, which gave her a special tribute.
"Her meteoric rise in the world of fashion has echoed her husband in the world of politics," said Diane von Furstenberg, the council's president.
Obama, by means of a taped message, responded by saying: "On behalf of women everywhere, I want to thank you for making fashion liberating, inspiring, but most of all, fun."
The Toledo ensemble is on loan for the exhibit and is slated to become part of the permanent collection at the Smithsonian. Obama matched the outfit with shoes by Jimmy Choo, a pricey line, and gloves by the more affordable J.Crew.
"It proves good design can be had at all price points," said Mears. "She can still look chic, but so can everybody else. I think it's a wonderful statement to make."
Having her design chosen by the first lady was the thrill of a lifetime, said Toledo.
"You don't have to be a big corporation in America," said Toledo. "Here I am. It's the American dream."
The exhibit, which includes an array of her designs, many with fluid draping, intricate ruching and sculpted silhouettes, runs through September 26, 2009.
(Editing by Michelle Nichols and Patricia Reaney)
© Thomson Reuters 2023 All rights reserved.