Film-inspired Dolce & Gabbana open Milan menswear
By Marie-Louise Gumuchian
MILAN (Reuters) - Milan's menswear shows kicked off on Saturday 16 January with the first of the major Italian designer names Dolce & Gabbana turning to a film about Sicily as inspiration for next winter's fashion.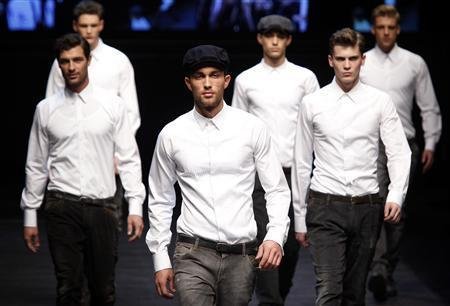 Their show was one of the first of just under 40 catwalk runs taking place during Milan's autumn/winter 2010/2011 menswear fashion week, which runs until Tuesday 19 January and comes amid hopes for a recovery in the crisis-hit luxury sector.
Domenico Dolce and Stefano Gabbana said they were inspired by "Baaria," a big-budget, sentimental sweep through 20th century Sicily, taking in fascism, war, communism and the Mafia.
Director Giuseppe Tornatore based the film partly on his own memories of life in his native Sicily, also Dolce's birthplace.
The designers presented a mainly black, white and grey line, sending out models wearing heavy knits over trousers that were wide on top and narrowed at the bottom, against a screen backdrop showing scenes of "Baaria."
Vests were tucked into black washed-out jeans or long-john type trousers and shorts. White shirts were sleek and tucked into jeans or black trousers. For the evening, there were velvet suits, high-collared waistcoats and black bow ties.
They accessorized the look with black caps and boots.
Screens also showed the designers and models backstage. The duo have been sharing the preparations for their show via their online magazine Swide, at www.swide.com.
Later on Saturday 16 January, Giorgio Armani will stream his Emporio Armani show live on the brand's website -- live.emporioarmani.com -- and the group's Facebook page. British house Burberry will also stream its show live on live.burberry.com and allow viewers to comment in real time.
Italy's fashion capital Milan is especially renowned for its menswear tailored suits and leather shoes, made by world-famous names such as Armani and Ermenegildo Zegna.
The latter, celebrating its 100th birthday this year, turned to nature for a mainly dark blue, green and grey winter line of suits, duvet-like coats and knit-collared polo necks. The look was accessorized with hold-all bags and sturdy shoes.
The menswear market has not been spared by the economic turmoil and with the financial sector hit hard, suit and tie sales have suffered.
Turnover for Italian menswear is seen falling nearly 10 percent to 8.3 billion euros in 2009, according to Sistema Moda Italia (SMI), which represents the clothing and textiles industry.
(Editing by Noah Barkin)
© Thomson Reuters 2023 All rights reserved.