Fewer discounts help US stores weather February snow
By Brad Dorfman
CHICAGO (Reuters) - U.S. retailers posted their best monthly sales performance since just before the recession started in 2007, as lean inventories meant they did not need to resort to steep discounts.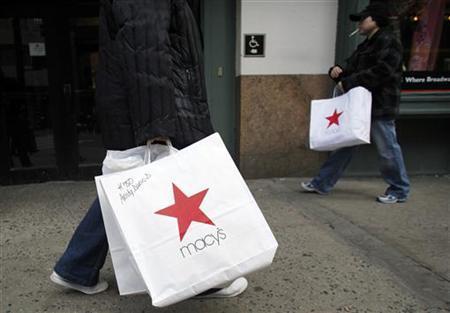 The February results are the latest indication that consumers are coming out of hibernation, although many of the largest retailers do not report monthly sales data.
Three-quarters of the 28 retailers in the Thomson Reuters index beat expectations. Sales could have been even better, but record-setting snow in much of the eastern part of the country curbed gains, retailers said.
"We're going on four or five months here of continuous incremental growth," said Janet Hoffman, global managing director of Accenture's Retail practice. "It's not breakaway spending, but I think that there is enough evidence to tell us that the consumer is happy to be back in the marketplace shopping."
Even retailers in sectors that have struggled in the past year, like department stores, were able to beat expectations. Macy's (M.N) said sales at stores open at least a year increased 3.7 percent in February, and Dillard's (DDS.N) reported a 2 percent rise.
Teen apparel retailer Abercrombie & Fitch Co (ANF.N), another long-time laggard, posted a surprise 5 percent increase in same-store sales instead of the 6.9 percent decline analysts on average expected.
"Retailers have really done a great job of limiting their inventories, so they weren't stuck with a lot of stuff that they had to drastically mark down," said Ken Perkins, president of Retail Metrics.
The Standard & Poor's Retail Index .RLX closed up 1.3 percent on Thursday 4 March, its highest level since December 2007, while the S&P 500 .SPX was little changed. Since the start of February, the retail index has risen 7.5 percent, outpacing a 2.8 percent gain for the S&P 500.
Top gainers included Abercrombie, whose shares rose 14.6 percent; fellow teen retailer Zumiez (ZUMZ.O), up 10 percent; and Family Dollar Stores Inc (FDO.N), up 8.1 percent after the low-priced chain raised its quarterly earnings forecast.
February, typically the slowest sales month of the year, also benefited from weak comparisons with the year-earlier month, when consumers reined in spending during the depth of the recession, shopping only for deeply discounted merchandise.
Macy's same-store sales would have risen 5 percent without the snow, Chief Executive Officer Terry Lundgren said in a statement.
FULL-PRICE STOCKS, TOO?
The Thomson Reuters same-store sales index rose 4 percent in February, compared with expectations for a 2.9 percent rise and a year-earlier drop of 4.7 percent. This year's results were the best for February since 2005, when same-store sales rose 5.7 percent, according to Thomson Reuters.
February sales also showed the biggest gain since November 2007, a month before the recession started, said Michael Niemira, chief economist for the International Council of Shopping Centers. ICSC's same-store sales index rose 3.7 percent in February, and the group forecast a 2.5 percent increase for March.
March sales will benefit from an earlier Easter than last year.
But the U.S. economic recovery is still tentative. U.S. consumer confidence sagged to a 10-month low in February amid worries about unemployment and government gridlock, which could also cap any rebound in the retail sector.
At the same time, shares of many retailers have had a strong run in the past month and are getting expensive, said Wall Street Strategies analyst Brian Sozzi.
"The discount sector's stocks still have value, but specialty retailers are coming to the point where they are fully valued -- you want to pull back on some of these stocks," Sozzi said. "The second half of 2010 will be tough because it will be hard to keep improving their gross and operating margins."
SUCCESS DESPITE SNOW
Teen retailers like Abercrombie and Zumiez were a surprise bright spot as younger customers seemed to take to spring fashion. Sales of denim were strong at chains like Buckle Inc (BKE.N) and Wet Seal (WTSLA.O), helping a sector that had been expected to lag.
Gap Inc (GPS.N) also surprised as same-store sales rose 3 percent, compared with expectations for a 1.8 percent increase.
Lower-priced retailers also fared well, with Target Corp (TGT.N) posting a 2.4 percent increase, compared with analysts' expectations for a 1 percent gain. TJX Cos Inc (TJX.N) had a 10 percent rise, beating an 8.9 percent estimate.
Family Dollar posted a same-store sales rise of 3.6 percent for the quarter that ended February 28 and said it expected earnings for the period to beat analysts' estimates.
Snowfall at times shut down cities including Philadelphia, Baltimore and Washington last month. Even in Manhattan, heavy storms on February 10 and February 25 made it difficult to get around. That may have limited traffic in stores, but the higher selling prices lifted sales, analysts said.
And the snow missed the three-day weekend that included Valentine's Day and Presidents Day, key shopping days in February.
Monthly sales data provide a snapshot at certain retailers but are less reliable as a measure of the economy as a whole, since industry leader Wal-Mart Stores Inc (WMT.N) and other major companies like Best Buy Co Inc (BBY.N) and Amazon.com (AMZN.O) do not report sales figures each month.
(Reporting by Brad Dorfman; Additional reporting by Jessica Wohl, Martinne Geller, Nicole Maestri, Phil Wahba and Alexandria Sage; Editing by Lisa Von Ahn, John Wallace and Phil Berlowitz)
© Thomson Reuters 2023 All rights reserved.