Fashionistas protect bank balance and planet
By Jennifer Hill
LONDON (Reuters) - Dawn had barely broken and 200 fashionistas were beginning to gather for the opening of London's newest shopping experience.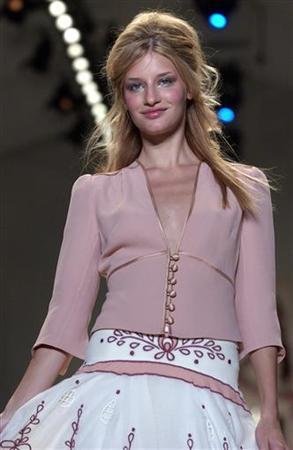 From 4 a.m. they queued, eager to be among the first to rummage through the rails of designer and quality high street clothing in the latest store to grace trendy Knightsbridge.
For this was the opening day of a pop-up shop -- open for a matter of weeks -- and the scene of Britain's first high fashion swapping event.
"Welcome to the world of Visa Swap -- an entirely new concept that enables you to spring-clean your wardrobe and 'buy' new clothes without spending a penny," proclaims its Web site, www.visaswap.com.
"Plus, all this can be done safe in the knowledge that your eco-halo will be gleaming like Liz Hurley's wedding ring."
For the past fortnight, fashion lovers have come to the Brompton Road store to exchange unwanted vintage frocks and Louboutin shoes for a Visa Swap chip card charged with points.
The more exclusive and unique the garment, the more points they receive -- from 40 for a hat to 500 for a coat.
As word spreads, eco-conscious celebrities dig into the back of their wardrobes too: donations from a gaggle of style icons -- pop star Kylie Minogue, supermodel Naomi Campbell, presenter June Sarpong and actress Mischa Barton (the face of the campaign) included -- flood through the door.
Designers themselves help to furnish the shelves, packed with dry cleaned and pressed second-hand pieces, with fashionista must-haves.
Nestling among the public's discarded garments, numbering thousands, are items from top Irish milliner Philip Treacy, London-based designer Alice Temperley, Issa (founded by Brazilian designer Daniella Helayel), Bella Freud (a former assistant to Vivienne Westwood), current British Fashion Designer of the Year Giles Deacon and shoe label Gina.
The debt free swap weekend attracts people from "every demographic", says Fiona Duncan, vice-president for innovation at Visa Europe, which has joined forces with TRAID (Textile Recycling for Aid and International Development) for the project.
An 85-year-old woman is one of the first through the door, while word of a spat between two younger customers over an iconic vintage Chanel handbag is the talk of the swap shop.
"We wanted to do something in the fashion arena that was accessible to everybody and that everybody won from," says Duncan.
"Because we're in the industry of purchases, we're really conscious that there's a lot of wastage these days.
"But people are becoming more aware (of the environment), so why not swap something you no longer wear and give someone else pleasure out of it?"
Stylists give advice on how to customise recycled clothing, while a team of MAC make-up artists help customers complete their new look.
Farah Mathres, originally from France, attends both days of the event, exchanging the 1,500 points she received for a number of silk shirts and jumpers, as well as a winter coat, on summer items for her impending travels in Asia.
"I've found things here I'd never have thought of (wearing)," she says.
"But I'm just so excited; I've got to pick them up.
"I've lived in New York and Paris and I've never seen anything like this.
"It's a lot of fun: if you've got the passion for clothes, you just couldn't miss it."
She is one of 500 fashionistas to snap up "new" items of clothing and footwear -- packaged in Hessian bags in keeping with the green philosophy -- during the two-day swap.
As the crowds dispersed and another busy shopping weekend in Knightsbridge drew to a close, few items remained.
These are bound for TRAID, which reuses, recycles and sells second-hand clothes and shoes, diverting textile waste from landfill and raising money to fund projects in some of the world's poorest communities.
"It's totally exceeded our expectations in terms of the number of people," says Sarah Bunter, manager of the pop-up shop.
"The high street has become so enormous; I think people have come here to get something unique.
"It's also heightened awareness of how the things you don't want any more can go to good use.
"A lot of people have been asking when the next one is going to be."
With Visa keen to "go global" with the initiative, shoppers might not have to wait too long for their next fix of fashion that does not cost the earth.
© Thomson Reuters 2023 All rights reserved.