Fashion hunts for talent in new growth phase
May 26 - The fashion industry is entering a new growth cycle with a bigger focus on customers' price, quality and style expectations than in the mid-2000s, prompting brands to renew their design teams, executives said this week.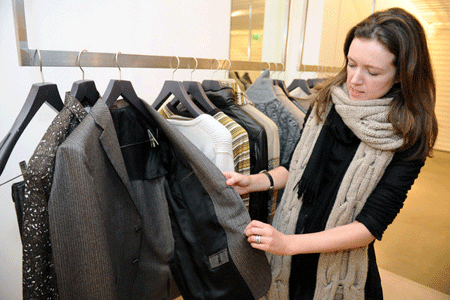 Designer Clare Waight Keller (above) recently moved from Pringle of Scotland to Chloe, replacing Hannah MacGibbon (Photo: Corbis)
Ever since Dior sacked John Galliano days before Paris Fashion Week in March, designers' heads have been rolling in the biggest reorganization the fashion world has seen in more than a decade.
"It is when business is good that fashion brands can take important decisions and change designers, not when times are difficult," Italy's Cerruti CEO Florent Perrichon told the Reuters Global Fashion and Luxury Summit.
During the 2009 downturn, fashion brands concentrated on protecting their business and surviving, he said. Times were too unpredictable to think about hiring a new designer.
With the recovery, doors have been revolving again.
Shortly after Galliano's departure, Christophe Decarnin, the designer credited with turning round Balmain with his punk-chic style, was forced out and replaced by his 25-year-old assistant.
This month, Richemont's Chloe, whose sales were flagging, replaced Hannah MacGibbon with Clare Waight Keller, who joined from knitwear specialist Pringle of Scotland.
In recent weeks, a string of high-end brands such as Azzaro, Tussardi, Armani, Cacharel, Gianfranco Ferre and Ermenegildo Zegna ended their designers' contracts. Many have yet to be replaced.
Parting with a designer is as difficult and painful as finding a new one and a brand's future can hinge on making the right choice.
"When you hire a creative director it is like marriage, it is a lottery," Diane von Furstenberg told the luxury summit.
Fashion brands usually wait until a collection has been presented at fashion shows in March or September before letting their designer go. That way the new team, if appointed quickly, can present its new collection in time for the next season.
Bernard Arnault, head of Dior parent LVMH, said last month the fashion brand planned to take its time to find a replacement for Galliano. He said he would only make a decision when he felt a "strong conviction" behind it.
MORE ATTENTION ON PRICES
Fashion brands are keen to avoid past mistakes. Following its founder's retirement, Valentino struggled and went through several designers before settling on Pier Paolo Piccioli and Maria Grazia Chiuri in 2008.
Loss-making Emanuel Ungaro made a mistake when it handed over the creative reins to Hollywood starlet Lindsay Lohan, who had no experience and was sacked in less than a year. The fashion house is still reeling from the damage she did to the brand's image, fashion experts say.
"In our profession, there used to be a gap between the studio's creative desires and buyers' expectations," said Henri Sebaoun, head of Carven, a post-war couture brand now enjoying a strong revival. "I think the new generation of designers today know they need to reconcile both buyers' expectations and their creative impulses."
Some executives said brands were paying more attention to pricing as consumers wanted more value for their money in the post-crisis era. They will no longer pay 300 euros ($419.10) for a ripped T-shirt carrying a logo.
"Fashion houses are starting a new phase. Customers want less logo, more quality, more heritage," Printemps Chief Executive Paolo de Cesare told the summit.
The impressive growth of brands with no logos such as Bottega Veneta, part of PPR and known for its weaved leather bags, is a sign of the change. Celine, known for its classic simple styles, has also benefited as sales have soared under the stewardship of Phoebe Philo, who won the British Designer of the Year award in 2010.
Fashion critics say Philo answers buyers' post-crisis yearning for pure, simple and creative designs and they also appreciate that her wares are not advertised by celebrities.
"We are coming back to the essentials, to things which mean something," said Jean-Jacques Picart, a consultant and fashion adviser for LVMH, which owns Celine, Givenchy, and other brands.
By Astrid Wendlandt
(Additional reporting by Phil Wahba in New York, Editing by David Holmes)
© Thomson Reuters 2023 All rights reserved.