Fashion brand Carven says mulls possible IPO
May 26 - Carven, the French fashion brand which has become the new darling of fashion editors, is growing so fast it might consider floating or letting in external investors in a little over a year, its head said on Wednesday.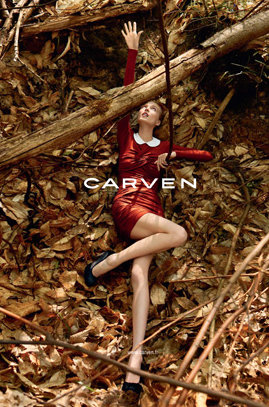 Carven campaign
Carven, a couture label which lost its luster in the 1980s, was acquired three years ago by two businessmen who hired designer Guillaume Henry, formerly at Paule Ka and Givenchy, to revitalize the brand.
In a few collections, Henry infused new life into the name, which now generates about 20 million euros in annual sales.
Carven, which opened its first shop in Paris in March, is sold in 50 countries through 400 multi-brand or department stores such as Barneys and Bergdorf Goodman in New York, Galeries Lafayette in Paris, and Harvey Nichols in London.
"If our sales continue to grow like this (in double digits), we will have to consider several options... Floating could be one of them, or finding partners," Carven CEO Henri Sebaoun told the Reuters Global Luxury and Fashion Summit in Paris.
However, he said the question would only start posing itself by the end of 2012. By then, he said he expected the business to start becoming profitable.
"I think we need another three collections to confirm our growth and closely examine sales to final customers," Sebaoun said.
"After that, we will decide where we want to go and in which countries for example we want to develop the brand."
In 2008, Sebaoun, who owned Carven's menswear license in Europe since 1994, acquired the brand with his cousin Marc Sztykman, who together own 63 percent of share capital. They received the financial backing of French private equity firm Turenne Capital.
Sztykman designs the menswear line which Sebaoun is also planning to develop.
Carven's perfumes, which include Vetiver and Ma Griffe, were sold by Sebaoun to small French perfume maker Jacques Bogart to help finance the development of the fashion brand.
Helped by Jean-Jacques Picart, fashion adviser to Bernard Arnault, founder and head of luxury giant LVMH, Sebaoun hired designer Guillaume Henry in 2009.
Since then, Henry has won praise for tactfully reinventing Carven as a Parisian brand known for its elegant miniskirts and chic schoolgirl-style outfits.
The brand aims to position itself in what it calls "accessible couture" with dresses costing 200-500 euros ($280-$700) made in Romania, and shoes costing around 200-400 euros, made in Spain. Handbags are made in Tunisia.
"We are at the beginning of our story," Sebaoun said.
Madame Carven, who created the label in 1945 and had Hollywood stars and princesses as clients, is now 102, making her one of the oldest renowned French fashion designers alive.
(Writing by Astrid Wendlandt, Editing by Phil Berlowitz)
© Thomson Reuters 2023 All rights reserved.