Farhi's classic designs key to beating downturn
By Kylie MacLellan
LONDON (Reuters) - Nicole Farhi has shown that creating wearable, timeless classics is the key to maintaining strong sales in an economic downturn.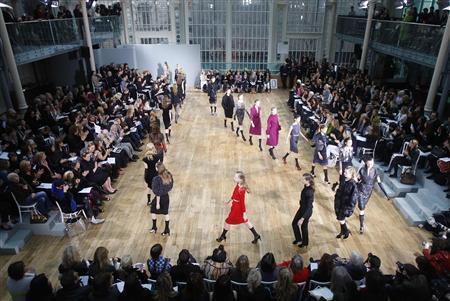 The French-born designer, known for her chic, luxurious designs, did not disappoint a packed audience on Sunday at the showcase of her new collection during London's fashion week.
Bathed in light through the huge window at the Royal Opera House, Farhi's models wore 1940's cuts clothed with modern sheer metallic printed chiffon and embellished cashmere knitwear.
Bold colors and lavish fabrics were the order of the day, with high waists and thin belts a common theme.
"Our brand is not one which has been very frivolous, it's perceived as very luxurious...you know you're investing in pieces," said managing director Niki Scordi.
Scordi said retail sales had grown over the last three to four months and the company had seen double digit growth in sales to wholesale buyers year on year.
Farhi, who described her collection as an exploration of colors reminiscent of candy floss and sweet wrappers, said it was important to lift people's spirits given the economic backdrop.
"When the (economic) climate is bad...it's very important to believe in what you are doing and to carry on and to be uplifting," Farhi told Reuters after the show.
"We're not going to be in a recession forever, we are going to come out of it so we need to survive it...It has given us more energy, more will to work."
Farhi, who last year won a Lifetime Achievement Award from the Confederation of British Industry, launched her label during the early 1980s recession after working as the head designer at retailer French Connection for more than a decade.
Scordi said the weaker pound had led to an increase in European buyers but had also been a challenge for the business because it manufactures and buys its fabrics in Italy.
She said the label, which is part of the French Connection group, had not been affected by the collapse of Icelandic company Bauger which owned, either directly or via joint venture, a 17.6 percent stake in French Connection.
Scordi, who took over the managing director post last April, said this was mainly thanks to the group's solid finances and because it did not have much debt.
"We don't have to worry about our financing, that's for sure, and that's a good position to be in, so I feel quite confident," she told Reuters.
"You've got to try and put everything in perspective," she said, pausing as Stephen Marks, founder and chief executive of French Connection, congratulated her on the show.
"It's not the first recession we've had, it won't be the last, and fashion is supposed to be a place people find a bit of peace as apposed to misery."
(Editing by Robert Woodward)
© Thomson Reuters 2023 All rights reserved.