Fancy pants designer eyes giant strides in ski market
By Kevin Fylan
VANCOUVER, Feb 19 (Reuters) - Watch out skiing. The fancy pants designer behind the loudest trousers this side of an Austin Powers movie is coming for your sport next.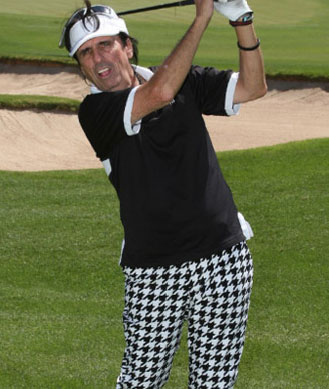 Photo: loudmouthgolf.com
Scott "Woody" Woodworth, a 49-year-old designer from Sonoma, north of San Francisco, created the harlequin-style red, white and blue curling trousers that have seen the Norwegian men cut such a dash during the Vancouver Winter Games.
The company he started 10 years ago with a single piece of women's dress fabric -- purely so he would have something fun to wear to a golf tournament -- has been inundated with orders ever since the Norwegians strutted out for their first match.
Loudmouth Golf has turned into a sizeable business, making pants inspired by the golf course fashions of the 1970s and retro films like Austin Powers, while boasting golfer John Daly and rock star Alice Cooper among its clients.
A graphic designer before he switched to fabric, Woody still lays out the company brochures himself and remains more amused than excited by the sudden attention, saying he is only in it to give men an alternative to boring blues and greens in the trouser department.
"I still get giggly about it," Woodworth told Reuters in a telephone interview on Friday 19 February.
"I was in Las Vegas when all this started up and my Blackberry was buzzing for 12 hours. I have a red mark on my thigh from all the vibrating.
"This is all just about the fun. You know, life's too serious. There's something different and disarming about seeing a man wearing something other than khaki pants or blues."
FUTURE OLYMPIANS
Woodworth was as surprised as anyone when the Norwegians opted to wear his pants, after the team simply bought them retail, but if he gets his way there could be deals with other sports.
"We're definitely going to go into skiing next," he said. "It means doing a whole new lot of research and development but we're gonna do it for sure."
He said he had been impressed by the garish trousers worn by Czech Republic and Azerbaijan in the opening ceremony but said there was an important distinction between his trousers and theirs.
"Their pants were purely in our spirit but in the end they were for a parade," he said. "I go out to eat in these things. You're supposed to wear them all the time."
After struggling for years to fill small orders, making 40, 50 or 100 pairs at a time, Woodworth got his big break in 2007 when clients who had tried, and failed, to get trousers for all their golfing buddies helped expand the business and moved the manufacturing to China.
"I then tried to get Golfsmith website to put the pants up there. They thought we were crazy but just to shut us up they put a couple of pairs up on the web. Within a month they were the biggest sellers."
As to the future, Woodworth has no plans to give up control of his company but he would, he says, be open to an offer as outrageous as his trousers.
"If someone comes along with a million dollars," he said, before correcting himself in the voice of Dr Evil from the Austin Powers spoof spy films.
"No, not a million dollars ... one hundred million dollars...
"Everything is for sale but look, we're having fun now."
(Editing by Miles Evans; To query or comment on this story [email protected])
© Thomson Reuters 2022 All rights reserved.