Ex-Body Shop worker fined 85,000 pounds
LONDON (Reuters) - The financial services watchdog fined a former employee of cosmetics retailer Body Shop 85,000 pounds for market abuse, it said on Tuesday.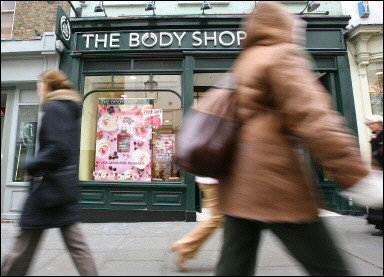 Photo : Ben Stansall/AFP
The Financial Services Authority (FSA) said former Body Shop IT worker John Shevlin obtained advance warning of the retailer's worse-than-expected performance during the 2005 Christmas trading season and used the information to bet on a fall in the group's share price once the figures were published.
Shevlin made a profit of 38,472 pounds by taking a short position in Body Shop shares through a contract for difference in January 2006, financing the trade through a loan of 29,000 pounds, more than his annual salary, the watchdog said.
"Firms must take steps to protect market sensitive information. Where individuals circumvent these protections, they should expect to face significant financial or other sanctions, whether or not they are approved by the FSA," FSA Director of Enforcement Margaret Cole said in a statement.
The Body Shop was taken over by French cosmetics group L'Oreal in March 2006.
(Reporting by Myles Neligan; Editing by David Holmes)
© Thomson Reuters 2022 All rights reserved.