European retailers eye self-help and emerging markets
Mar 18 - Results from top European retailers next week are set to underscore the importance of self-help measures and of expanding in fast-growing emerging markets as companies battle weak consumer spending at home.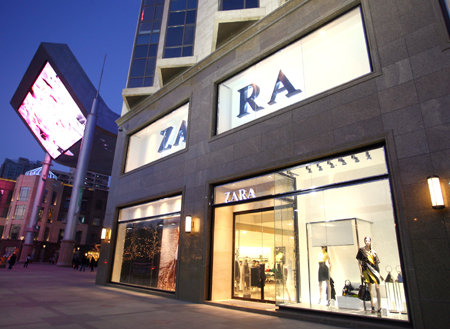 Zara (Inditex Group) in Beijing
Germany's Metro, the world's No.4 retailer, will provide an update on its Shape 2012 restructuring plan, which helped to boost profits last year, while analysts will be looking for more details on its plans, announced on Thursday, to expand into Indonesia and Latin America.
Spain's Inditex, the world's No.1 fashion retailer, will also update on growth plans focussed on emerging markets, as it fights rising costs of cotton and Asian imports.
Expanding in developing markets and improving profit margins will be themes for Kingfisher as well when the world's No.3 home improvements retailer unveils its strategic blueprint for the next three years.
Despite growing signs of a robust global economic recovery, investors are worried that austerity measures to cut government debts, along with rising food and fuel costs, will hit consumers hard across much of Europe in the coming months.
The STOXX Europe 600 retail index has lagged the broader FTSEurofirst 300 by 6 percent this year.
BETTER POSITIONED
Metro, which runs cash and carries, hypermarkets, electrical goods and department stores, should be in a better position than many European rivals, thanks to a more robust economic recovery in its main market of Germany.
But there was little evidence of that in fourth-quarter sales figures, which were disrupted by snow, and investors will be looking for a bounce-back when the group reports 2010 results on Tuesday, particularly at hardest-hit electricals arm Media-Markt Saturn.
Analysts are also hoping for an update on MMS's plans to expand online. The chain, Europe's No.1 in electrical goods, has lagged rivals like Dixons and Kesa in tapping the boom in internet sales and a source close to the matter told Reuters earlier this month it might buy an established online platform as it tries to catch up.
Analysts will also be looking for clarification on whether hypermarkets chain Real is recovering strongly enough for Metro to keep it in the group. It has previously considered a sale.
And they will want reassurance that Shape 2012 is on course to add 1.5 billion euros (1.3 billion pounds) to profits. The plan is forecast to have driven a 14.5 percent rise in underlying operating profit to 2.32 billion euros last year, according to a Reuters poll of analysts.
Inditex is also tipped to report a healthy rise in full-year earnings on Wednesday, helped by growth in emerging markets and market share gains in Spain, where its fast-changing, affordable fashions have helped it cope in recession.
PROFIT MARGINS
Analysts will also be looking for a boost from the online launch of its flagship Zara brand in September, as well a generous dividend from the cash-rich firm.
But the focus will be on the impact on profit margins from rising cotton prices and labour costs in Asia following a string of warnings from rivals like Sweden's Hennes & Mauritz, Britain's Primark and Italy's Benetton.
Inditex should be better protected than most, because it sources a lower proportion of goods from Asia.
Rising costs will also be a theme when Next, Britain's No.2 clothing chain, reports results on Thursday. The group has forecast a rise of between 7 and 10 percent in full-year pretax profit to between 540 million pounds ($872 million) and 555 million.
Kingfisher, Europe's No.1 do-it-yourself retailer, is tipped to post a 22 percent rise in full-year profit to 668 million pounds on Thursday. Measures such as buying more goods centrally and directly from cheaper producers like China have been so successful the group should beat its 2012 earnings per share target of 19.6 pence a year early.
Analysts expect the owner of B&Q in Britain, and Castorama and Brico Depot in France and elsewhere, to outline further steps to boost margins, such as selling more own-brand goods.
They also think it will step up expansion in Poland, Russia and Turkey, and could sketch out plans for franchise stores in more eastern European markets, and possibly the Middle East.
Kingfisher may hint at a return to acquisitions as well, which could signal a desire to increase stakes in Germany's Hornbach and Turkish partner Koc Group.
Underscoring tough trading conditions in Britain, analysts expect J Sainsbury, the country's No.3 grocer, to report a 2.4 percent rise in fourth-quarter sales at stores open at least a year, excluding fuel but including VAT sales tax.
That would be down from 3.6 percent growth in the third quarter, though still ahead of major rivals.
By Mark Potter
(Additional reporting by Victoria Bryan in Frankfurt, with Sonya Dowsett and Sarah Morris in Madrid; Editing by David Holmes)
© Thomson Reuters 2023 All rights reserved.