Euro zone retail sales plunge as debt crisis bites
By Jan Strupczewski

BRUSSELS, June 3 (Reuters) - Euro zone retail sales fell sharply in April, missing expectations for a small monthly rise, data showed on Thursday 3 June, as uncertainty over jobs and government spending curbed consumer demand.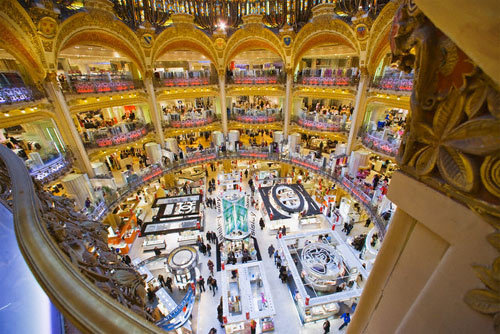 Galeries Lafayette, Paris
The European Union's statistics office said euro zone retail sales, a good indication of households' propensity to spend, fell 1.2 percent month-on-month, the deepest fall since October 2008, for a 1.5 percent year-on-year drop.
Economists polled by Reuters had expected a 0.1 percent monthly increase in retail sales in the 16 countries using the euro and a 0.2 percent year-on-year decline.
For full details and table see: here
"A sluggish labour market, tighter fiscal policy and rising uncertainty about the economic outlook point to ongoing consumer weakness in the coming months," said Nick Kounis, economist at Fortis Bank.
"However, the global background still looks favourable and the fall in the euro should also support exports. So the overall picture is likely to be one of moderate economic growth."
Consumer demand is weak because unemployment in the euro zone is at an almost 12-year high of 10.1 percent and expected to rise further, which keeps a lid on wage growth and limits households' spending power.
Retailers in Europe have been struggling with falling food prices and a reluctance among shoppers to step up spending despite signs of economic recovery.
Kingfisher (KGF.L), Europe's biggest home improvements retailer which also runs the Castorama and Brico Depot chains in France, said on Thursday 3 June it expected trading conditions to remain tough, as governments across Europe looked to cut debt.
Consumers and businesses alike were affected by uncertainty about the planned austerity measures, Kingfisher said. Economists said the euro zone debt crisis also raised consumer fears that the economy may turn bad again.
"Consumers in a number of euro zone countries are now facing earlier and/or more aggressive fiscal tightening as a consequence of the region's debt crisis," said Howard Archer, economist at IHS Global Insight.
"Consumers are also concerned that the debt crisis could derail euro zone recovery," he said. "This reinforces our belief that the ECB will keep interest rates down at 1.00 percent deep into 2011," he said.
Eurostat said food drinks and tobacco sales fell 1.1 percent month-on-month in the euro zone in April the same as non-food products. Year-on-year the drops were 1.8 and 1.1 percent respectively.
(Reporting by Jan Strupczewski, editing by Jason Webb)
© Thomson Reuters 2023 All rights reserved.