EU shoemakers threaten legal action on dumping duty
BRUSSELS (Reuters) - Italian and other shoemakers threatened legal action against the European Commission on Saturday if the EU executive decides to scrap anti-dumping duties on imports of Chinese and Vietnamese leather footwear.
European retailers and global shoemakers, which manufacture in the two low-cost Asian countries, say Brussels must axe the "shoe taxes", especially as a weak economy is hitting shoppers.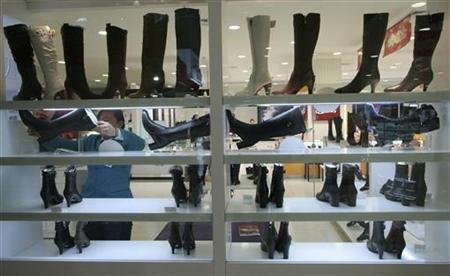 A majority of European Union countries have rebelled against a plan to keep the duties, which are due to expire next month. EU national trade experts on Wednesday pressured EU trade chief Peter Mandelson to rethink his decision to agree to calls for a review that would extend them for up to 15 months.
The European Confederation of the Footwear Industry and the Italian Footwear Manufacturers' Association, in an open letter to Mandelson published in Saturday's Financial Times, said the experts had taken into account only the interest of a few firms.
The trade experts were "bluntly putting aside the detrimental impact which a negative decision would have for the whole of the European footwear industry", the letter said, calling their opinion legally and economically flawed.
The industry confederation could take action including a demand for damages, the shoemakers said.
A spokesman for Mandelson, who is due to visit China next week, said: "The Commission is in the process of taking a final decision on this issue and it will be made public in the coming days."
The 27-country EU regularly splits over dumping cases between those member countries supporting freer trade and those worried about Chinese competition for their own manufacturers.
The shoe duties were introduced in 2006 only after a compromise deal to keep them in place for just two years, instead of the usual five.
Italy and some other shoe-making countries in Europe have pressed for the duties to be extended, a move opposed by other European countries that have long called the measures protectionist and unjustified.
(Reporting by Dale Hudson; Editing by Matthew Jones)
© Thomson Reuters 2022 All rights reserved.