End of a textile era as Jacquard loom closes
WARSAW (AFP) — The rhythmic clickety-clack of 19th century hand looms will soon be silenced when what is thought to be the last Jacquard workshop in Europe closes in a few weeks and another traditional art disappears.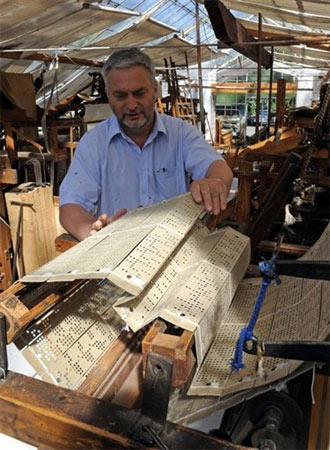 Photo: AFP
Film-makers, theatres and interior designeers have been keeping the LAD Jacquard fabric workshop in Warsaw alive but the economic crisis has hit all of them very hard.
"We're in a very difficult economic situation and in a few weeks this, the oldest working Jacquard manufacturer in Europe, will become history," Dariusz Makowski, owner of the workshop told AFP.
Makowski is pessimistic that public subsidies can be found.
Invented by Frenchman Joseph Marie Jacquard in the French city of Lyon around 1800, the Jacquard loom was the first to weave complicated patterns. It revolutionised textile manufacturing and paved the way for the mechanised modern textile industry.
"It allowed fabrics with beautiful, intricate designs to be produced much faster and at a much lower cost," explained Makowski.
"In fact in the 1820s it sparked a labour movement by weavers in Lyon, a great social revolution and the rise of the weavers' Solidarity union in 1823-25 -- much, much sooner than in Poland," he remarked of the rise of Poland's historic Solidarity union led by Nobel Prize winner Lech Walesa in 1980.
The Jacquard technique spread across Europe in the 1800s and by the 1840s large manufacturing facilities weaving Jacquard fabrics and rare laces were set up in Poland. But soon machine-operated Jacquard looms replaced their hand-operated ancestors.
"In 1926 they (the hand-looms) became the property of the Warsaw Fine Arts academy and later the LAD artists' co-operative was created. We are their successors." Makowski said.
"This is the only remaining working cooperative of the famous ones such as Bauhaus in Germany or the Arts and Crafts Society in London," he added with pride.
Fifteen years ago he bought 12 19th century wooden Jacquard looms and an inventory of 509 antique Jacquard patterns from the LAD cooperative which folded in post-communist Poland's difficult adaption to the market economy.
Today, the workshop is located in a ramshackle greenhouse in Warsaw's sprawling Royal Lazienki park.
The revolutionary Jacquard loom was the first to use special punch-hole cards using a binary code to make fabric patterns using a steering mechanism on the top of the loom.
"The machine on top of the loom can be likened to a computer while the punch-card is like a kind of primitive computer program or disc," explained veteran weaver Mariola Nowakowska, 54, who has been working on looms for 30 years.
"The machine reads the punch-card and really you could say it's a kind of a proto-computer," she added.
A weaver on a Jacquard hand loom must be physically fit to pump its heavy wooden pedal day-in, day-out and have the patience of a saint to make sure each of several thousand fine threads is in its rightful place, Nowakowska said.
But the effort is rewarded by the special quality of the product.
"On hand looms fabrics are naturally more supple and light than mechanically made ones as we compact the weave by hand and we don't have as much strength as the motor running a machine," Nowakowska said.
An experienced weaver can produce up to two meters (six feet) of Jacquard cloth per day, but Nowakowska is one of the last possessing the skill to deftly operate a Jacquard loom.
"Essentially, this craft has disappeared. We are just two weavers here and young people just aren't interested in learning. It's hard, complicated work. Perhaps there will be someone willing to learn, if not, it will become a museum," Nowakowska said with a hint of saddness.
By Mary Sibierski
Copyright © 2023 AFP. All rights reserved. All information displayed in this section (dispatches, photographs, logos) are protected by intellectual property rights owned by Agence France-Presse. As a consequence you may not copy, reproduce, modify, transmit, publish, display or in any way commercially exploit any of the contents of this section without the prior written consent of Agence France-Presses.