Economic factors seen crimping US May retail sales
June 2 - May sales results from U.S. retailers are expected to show how higher gasoline prices have crimped consumer demand for summer clothing and other discretionary items.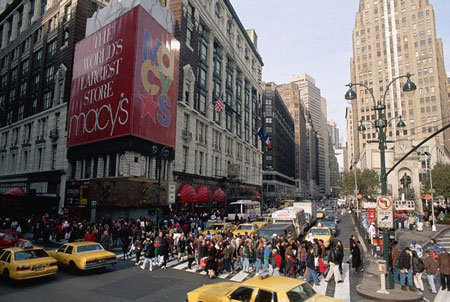 Exterior of Macy's department store in New York (Photo:Corbis)
Still, some chains are outperforming rivals with better merchandise and customer service, gaining market share and topping analysts' estimates.
U.S. chain stores are expected to show a 5.4 percent rise in May sales at stores open at least a year, according to Thomson Reuters data. That compares with gains of 8.9 percent in April, when sales were fueled by a late Easter holiday, and 2.6 percent in May 2010, when the economy was still fitful and many experts feared a double-dip recession.
"The consumer is still in slow recovery mode," said FBR Capital Markets analyst Liz Dunn. "They are being selective ... and really consolidating purchases around places where they feel like there is better fashion."
One stand-out, she said, is department store operator Macy's Inc, which reported a better-than-expected 7.4 percent rise in May sales at stores open at least a year on Wednesday. It also raised its sales target for the current quarter.
Teen apparel retailer Zumiez Inc also posted a better-than-expected 7.8 percent rise for May. Analysts were expecting 7.5 percent.
Hot Topic Inc, another retail chain that targets teenagers, reported a smaller-than-expected 0.4 percent rise for May, but affirmed its second-quarter outlook.
BATTLE FOR MARKET SHARE
For Christa Hirneisen, who was shopping at a Gap store in midtown Manhattan on Wednesday, gas prices have tempered her spending, since she drives a lot.
"For the things I can hold off on for a bit, I won't buy," she said.
Since consumers are spending less, competition for their dollars has heated up, said Walter Stackow, senior research analyst for Manning & Napier Advisors, which invests in the retail sector.
"There's not really a rising tide," Stackow said. "For every winner there's going to be a loser."
Many retailers blamed cool, wet weather for disappointing results in April, and the conditions persisted into May, said weather tracking firm Planalytics. May began with the coolest run-up to Mother's Day since 2005, but then warmed up, it said. In addition, the country experienced over 350 tornadoes.
Another round of disappointing economic data on Wednesday showed that U.S. private employers added a scant 38,000 jobs in May, the lowest level since September 2010, while an index of national factory activity fell more than expected in May to its lowest level since September 2009. The Standard & Poor's 500 Index .SPX fell 2.3 percent.
By Martinne Geller
(Additional reporting by Phil Wahba and Dhanya Skariachan in New York; editing by Andre Grenon)
© Thomson Reuters 2023 All rights reserved.