EBay lowering fixed-price sellers' listing fees
By Alexandria Sage
SAN FRANCISCO (Reuters) - EBay Inc is cutting the fees U.S. sellers on its site pay for fixed-price items, in one of the company's boldest moves this year to boost merchandise for sale, lure new buyers and take on competitors.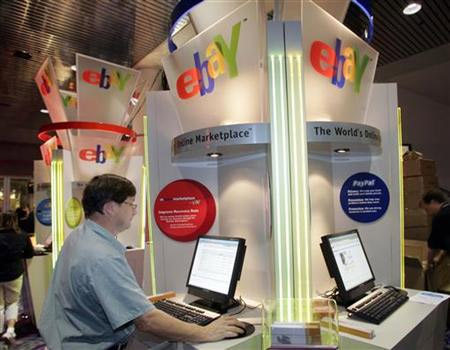 eBay kiosk to check on an item someone has for sale during the Consumer Electronics Show in Las Vegas, January 6, 2006 - Photo : Steve Marcus/Reuters
Total sellers' fees will decrease in most cases under eBay's plan to improve the balance between buyers and sellers on the world's largest online auction site, and thereby reduce customer defections to rivals such as Amazon.com Inc .
"I'd say this is the most fundamental change we've made, ever, to the marketplace," Lorrie Norrington, president of eBay marketplace operations, told Reuters. "It's a huge shift from where we've been."
Instead of charging sellers to list each item separately, eBay will charge 35 cents to list any number of the same types of fixed-price items. Similar changes will be made in Germany and Britain, eBay's second- and third-largest auction markets.
The move, effective September 16, is a bid to reduce the clutter of similar items on eBay -- 100 pairs of white socks will now be sold as a group, for example. The change is timed to boost business heading into the crucial holiday season.
Such items will remain listed for 30 days instead of seven, helping sellers avoid the time-consuming process of re-listing unsold items and lowering the risk of inventory going unsold.
Fixed-price items, which made up 43 percent of merchandise sales on eBay last quarter, often attract newer or less-sophisticated online buyers who don't want to wait for a multi-day auction to close. EBay says fixed-price sales are popular because they bring in newer, more in-season goods, whether its plasma televisions or the latest video game.
EBay has been trying to attract more buyers as its main auction site has experienced slowing growth in recent years. The novelty of online auctions has waned and rivals like Amazon have muscled in on its turf with strong fixed-price offerings.
"Consumers are voting with their wallets and saying, 'Auctions aren't really the way I want to buy cosmetics,' or something like that," said Scot Wingo, chief executive of ChannelAdvisor, a sales consulting firm that advises online merchants who sell through eBay and other sites.
He called eBay's move a "relatively big change" to make before the holidays that also shows eBay's new management is willing to look beyond the traditional auction format.
Patti Freeman Evans, research director at Jupiter Research, said given the fast-growing nature of fixed-price sales, eBay's move is "very opportunistic, but also in line with what their customers are telling them they want."
MOST COMPETITIVE?
EBay's fixed-price focus reflects a shift in e-commerce. Consumers are now more comfortable with Web shopping and barraged with choices, whether it's auctioneers, retailers or classified sites like craigslist.com promoting bargains online or in stores. Also, sellers often post wares on many sites.
EBay, a San Jose, California-based company with 84 million active users worldwide, said lower listing fees, together with rejiggered back-end fees that will vary according to category, will make it the most competitive fixed-price player.
EBay said an "average" fixed-price seller that once spent $5,000 in eBay fees each year would now spend 11 percent less under the new fee system.
A revamped search engine, which is now being tested and will be introduced in September, will give buyers looking for a specific item options to buy at a fixed price or via auction.
This year, eBay has been taking steps to reward its best sellers and give new incentives to buyers, including coupons.
Fraud protections have been enhanced and upfront listing fees have been cut in favor of fees for successful sales. Sellers with high customer service ratings have won discounts and their goods featured more prominently than other sellers.
Further changes eBay said it would make include a maximum shipping price for sellers in media and electronics categories, with incentives to offer free shipping, and requiring sellers to include at least one electronic payment method.
The latter may irritate some small, but vocal, sellers who have objected to recent eBay changes.
"This will be viewed as 'eBay continues to push PayPal down everyone's throat,"' Wingo said.
Besides its main auction business, eBay also owns online payments service PayPal and Web-based call service Skype.
(Editing by Braden Reddall)
© Thomson Reuters 2023 All rights reserved.