Dynamic CEOs defy Japan Inc's decline
TOKYO - When Yusaku Maezawa quit playing drums in a punk band to devote himself full-time to his business selling Tokyo street fashion on the Internet, his main goal was to have fun.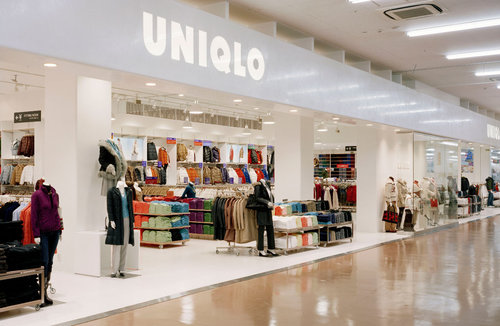 Uniqlo's Shimachu Sagamihara store in Japan - one of Fast Retailing's brands / Photo: Fast Retailing
Twelve years later, Maezawa, 36, is the billionaire CEO of online fashion retailer Start Today, one of a clutch of growing firms led by a different breed of executives determined to avoid the errors of the global Japanese brands whose faltering fortunes are making Japan Inc synonymous with decline.
"I was in danger of becoming a 'salary man musician'," Maezawa said in an interview at his company headquarters in a high-rise office building outside Tokyo, where framed T-shirts hand-sprayed by company executives with letters spelling out "NO WAR" adorn the entrance.
"On the other hand, the company was growing dynamically, I was meeting new people to work with and I heard customers were happy, so it felt like there was more dynamism and growth," added Maezawa, who named his firm for an album by punk band Gorilla Biscuits.
The company, which now has about 400 full-time employees, expects operating profits to rise by more than 46 percent to 8.56 billion yen ($104 million) in the year just ended.
Maezawa, whose firm listed on the Tokyo Stock Exchange's start-up section in 2007 and graduated to the first section in February, may be rare in preaching fun as a management gospel.
"I want to destroy the old concept that a company is a place where one sacrifices time for the sake of money," he said with an impish grin, confessing he now works a four-day week.
But his commitment to innovation and a laser-like focus on making consumers happy are shared traits experts agree set off Japan's emerging successes from once-proud but now-struggling firms such as Sony and Panasonic.
And it's not just those storied electronics groups that are at risk of being left behind in today's fast changing world. The stock market barometer, the Nikkei average, has dropped 74 percent from the heady highs of late-1989.
"Many people just rely on their past success, but things are moving and changing so fast, you need to self-innovate," Hiroshi Mikitani, CEO of e-commerce operator and Amazon rival Rakuten Inc, told Reuters in a telephone interview as he travelled by car through Tokyo.
"Even Rakuten, if we stop, I think we are going to decline very rapidly. That's the new rule of the game," said Mikitani, whose firm, set up in 1997, now employs over 7,000 people and posted group operating profit of 71.34 billion yen last year.
Experts say more such success stories - found in sectors ranging from retail, Internet and mobile games to niche manufacturers - could help revive a Japanese economy stuck in the doldrums for decades and saddled with an ageing population.
Maezawa is a high school graduate; Mikitani studied at Harvard Business School. Several stand-out CEOs founded start-ups but others built up a family business or head an established firm.
What these executives do have in common, though, is an individualism rare in Japan's often staid business circles.
"Japanese society is changing and independent types are increasing, and every year more people are trying venture businesses," said Tatsuyuki Negoro, a professor at Waseda University's IT Strategy Institute.
"The question is whether things can change in time before Japan sinks."
APPETITE FOR RISK, EYE ON CONSUMER
Factors behind the well-chronicled decline of famed Japanese brands are legion, including an inability to ditch loss-making divisions and focus on core businesses, an obsession with building 'better' products that consumers don't want, and risk-averse 'salaryman CEOs' hobbled by a search for consensus.
Those management mindsets have contributed to the woes of companies such as Sony, Panasonic and Sharp, set to lose a combined $17 billion in the year to end-March.
"Japan is seeking something like stability," said Tadashi Yanai, 63, listed by Forbes as Japan's richest man with family assets of $10 billion, and CEO of Asia's largest apparel retailer, Fast Retailing. "Stability is fine, but if you try to be stable without a desire to grow, there is no stability.
"I think the biggest problem is that that awareness has faded," Yanai said at his biggest store just days before it opened last month in Tokyo's glitzy Ginza district as part of a bid to rejuvenate profits for casual clothing chain Uniqlo by burnishing the brand at home and expanding abroad.
For Yanai - a second-generation retailer and author of a book titled "One Victory, Nine Failures" - and other successful CEOs, fear of failure isn't part of their management lexicon.
"Without knowing what I was going to do, I decided to jump off the cliff," said Mikitani, recalling his decision in 1995 to quit a job at the then-prestigious Industrial Bank of Japan and start his own firm - a move he says he'd never contemplated until the bank sent him to study at Harvard Business School.
Kohey Takashima, 38, whose online grocery firm Oisix Inc has yet to list publicly but who already dreams of expanding in Asia, said he has never calculated the cost of failure.
"I didn't think about the risk, because I didn't think I would fail," said Takashima, who worked for consultancy McKinsey & Co before starting his company with college friends.
"If you think you might fail, you won't take the risk," said Takashima, whose company in 2008 won the Porter Prize for innovative companies, named after Harvard Professor Michael Porter, author of the book "Can Japan Compete?"
A clear focus on satisfying consumers rather than mindlessly upgrading technological quality is another characteristic of the newer breed of thriving firms, experts and executives say.
"Companies that are struggling focus on product features, added functions, physical features. But by producing these, they don't really satisfy the consumer," said Shintaro Okuno, partner at consulting firm Bain & Co's Tokyo office.
"Those that are doing well are not bringing new features or functions, but entertaining the consumer."
Rakuten's Mikitani hopes that approach can differentiate his "online shopping mall" model from global giant Amazon, as he pushes overseas through M&A deals, though analysts say he may struggle in developed markets where Amazon has a big head start.
"People like to buy products and be proud of it, not just the product, but the process," Mikitani said in the fluent English he insists his executives must learn.
"Of course, price and convenience are also very important, but our strategy or way of thinking of our business (is that) shopping is not just about convenience and price, it's about experience and communication."
With a boldness experts say established firms would do well to imitate, Start Today's Maezawa says he'd abandon his online fashion business rather than try to undercut rivals with lower prices and wages if he starts losing to such competition.
"I want to create new value by doing something people haven't done before," said Maezawa, whose Zozotown shopping site had nearly 1.9 million active members as of February.
"If competition heats up in terms of price and labour conditions ... I would let the imitators do it and develop a new innovation."
HURDLES AHEAD
Success when firms are younger and nimble is easier than producing similarly dynamic growth as the organisation expands and ages, so many firms now winning plaudits and investor attention will have to fight to maintain a growth trajectory.
Finding a successor to current dynamic CEOs could also be a problem, experts say.
"There's a risk (that they will stall), but their management is always saying they must avoid that and doing management calisthenics to shed fat," said Shinji Higaki, a portfolio manager at Fidelity Worldwide Investment in Tokyo.
Like their stodgier corporate brethren before them, thriving Japanese firms are stepping out overseas and betting on growth from Asia in particular to offset a mature domestic market.
Takeshi Niinami, CEO of Japan's No.2 convenience store chain Lawson Inc, longs for a corporate jet to help execute what he termed "a mission to seek opportunities in Asia".
"We CEOs need to be constantly travelling abroad. For that, a private jet - not one of the big 2-3 billion yen ones but a small 200-300 million yen one - to jet around Asia would be enough," Niinami, who plans to operate 10,000 stores in China by 2020, up from 355 outlets now, told Reuters in an interview.
Mobile social gaming firm Gree Inc, which last year bought U.S.-based online games network OpenFeint Inc, aims to quintuple its global users to 1 billion in 3-5 years and is looking to Asia for longer-term growth, said CEO Yoshikazu Tanaka, dubbed Asia's youngest self-made billionaire by Forbes in 2009.
These executives know they face a tough balancing act to maintain unique appeal developed at home with adaptations to local tastes in markets where competitors may be already entrenched - Fast Retailing's Yanai, for example, has already had one taste of failure in an earlier foray abroad.
"Japanese that go overseas and do things the Japanese way are limited in what they can accomplish," said Niinami, a Harvard Business School graduate parachuted in from Mitsubishi Corp to run the chain after the trading house took a major stake in 2002.
"Japan's technology is advanced, but you need to leverage local employees who really understand the cultures of these places to tell you what is appropriate for that country."
"COST OF JEALOUSY"
Individual success stories aside, experts and executives agree Japan needs more dynamic, risk-taking business chiefs.
"There are huge numbers of people working at companies who have never seen their firm grow in the years since they got their jobs," said Gree's Tanaka, who himself got a taste of start-up success when he worked at Rakuten - and whose offices occupy the same Roppongi Hills complex that was home to a once high-flying Internet entrepreneur, Takafumi Horie.
"So even if you tell them that growth and success are interesting or fantastic ... it doesn't seem real."
Aggressive self-starters also remain a minority in part because those who succeed too well risk a social backlash.
"Japanese who become truly successful are often pulled down by society for that very fact. It's the cost of jealousy," said Akira Sato, a partner in Japanese consultancy Value Create.
Gree's stellar profits may be one reason the firm has attracted criticism from media for the big bills run up by minors buying virtual accessories to improve their scores, Waseda's Negoro said. Last month, Gree announced it was capping the amount under-20s could spend.
"Japanese don't like it if someone makes too much money. You should make just enough," Negoro said. "That's the Japanese tradition."
Rakuten's Mikitani, though, thinks the chill in Japan's appetite for entrepreneurship that followed Horie's 2006 arrest and subsequent prison sentence for accounting fraud at his Livedoor Internet firm is thawing.
Horie's aggressive takeover battles and high-flying lifestyle rattled corporate Japan, and many felt his 30-month prison sentence reflected an establishment backlash.
"Up to that point, there was a tremendous trend in Japan to support entrepreneurs, and there was a high level of expectation that these new leaders could change Japan in a good way," Mikitani said. "After the Livedoor incident, that momentum stopped a little. But now ... young people are being a little more ambitious and the trend is turning back again."
On-line organic food grocer Oisix's Takashima says opportunities abound for the ambitious, though he adds he wants to make the world a better place, not just rake in profits.
"Japan is the world's third biggest market, is very attractive and is being ignored," Takashima said. "There isn't much competition, so I have a lot of freedom. It's a great environment. I'd like to keep that a secret."
© Thomson Reuters 2023 All rights reserved.