Dubai shifts focus as shoppers hunt for bargains
By Raissa Kasolowsky
DUBAI (Reuters) - The homages to Pharaonic Egypt, ice rinks and shark-filled aquariums in Dubai's many malls still attract crowds, but retail in the Gulf Arab boomtown is looking fragile as luxury-lovers turn into bargain-hunters.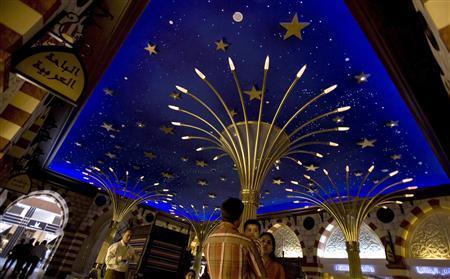 More than 40 malls in the region's capital of consumerism stock everything from cheap Chinese imports to designer goods: their extravagant features are designed to lure tourists who account for a significant chunk of business.
But as the global downturn caps consumer spending from Britain to India, retail -- which generates about a third of Dubai's gross domestic product -- is slowing markedly.
"This year will be the litmus test for retailers in the region," said Neil Tunbridge, head of retail services at Dubai-based consultancy GRMC Advisory Services.
"They will just be trying to get through the year with their operating systems intact."
Thilo Ahrend, a German tourist passing through on a stopover from the Maldives, encapsulates consumer hesitation: "I have to wait until I know how this financial crisis is going to affect me," he said in the Mall of the Emirates, home to the world's largest indoor ski slope.
"But I think if I came to Dubai just to shop, I would stop coming and just stay at home."
The summer months -- when fewer Western tourists visit the emirate to avoid stifling heat and unemployed white-collar expatriates are likely to pull their children out of schools to head home -- will be especially tough, analysts say.
Dubai lacks the oil revenues of neighbouring Abu Dhabi, the main contributor to the federal budget.
Mohi-din Bin Hendi, president of retail conglomerate Bin Hendi Enterprises, which distributes luxury brands such as Brioni and Calvin Klein, said February sales for luxury products were down between 25 and 30 percent from a year ago.
"There are still people buying but they are being careful not to spend their money," said Bin Hendi, who depends for about 60 percent of his business on tourists, particularly from Russia and neighbouring countries.
"They have started spending wisely, not lavishly."
His group, which operates in India as well as the Gulf Arab region, has significantly cut its growth forecast for this year.
"Estimated growth for 2009 was between 35 and 40 percent, which was humongous. Now it's somewhere normal at between 5 and 10 percent," he said.
RETAIL MAGNET
Dubai's transformation from desert backwater to commercial hub has attracted retailers from around the world, including Spain's Inditex, owner of fashion chain Zara, British luxury retailer Harvey Nichols and Italian designer brand Fendi.
This spurred a real estate boom in the emirate that saw retail space increase at a dizzying rate. In 2008, leasable mall space rose 28 percent to 21.4 million square feet, according to a study by real estate services firm Jones Lang Lasalle.
By the end of this year, that is expected to rise to 30 million square feet, said the study, published in February.
But after years of rampant expansion, plans to expand existing malls or build new ones are being put on hold. Nakheel, the government-owned developer of Dubai's palm-shaped islands, said in March it was delaying its $3 billion (2 billion pound) mall expansion plans.
This led Australia's largest department store, Myer Ltd, to put planned expansion into the emirate on hold: its new outlets would have been sited in Nahkeel's new malls.
The global slowdown has prompted a strategic rethink.
The emirate's annual shopping festival, which was first held in 1996 and draws tourists from around the world with a month of discounts, had its budget cut and shifted focus towards attracting visitors from neighbouring Arab countries and India and away from recession-hit Europe, organisers said.
Although official statistics from the emirate's international airport show passenger traffic is still rising -- by 6 percent in January to 3.3 million travellers -- other measures suggest tourism is falling.
Latest preliminary data from Dubai's Department of Tourism showed hotel occupancy rates fell 14 percent year-on-year in the third quarter of 2008, the most recent figures available.
A fall in tourism would hit hard. Fareed Abdelrahman of Majid al-Futtaim Group, which owns some of the city's largest and most popular malls, said more than a quarter of visitors to its malls were tourists.
"We have seen a bit of a change in the last three months," Abdelrahman said. "The tourism market is not the same as it was."
GRMC consultant Tunbridge points out a lack of hard data makes it difficult to quantify the impact of the slowdown, but said retailers in Dubai have a tendency to overbuy stock, which will put them in a tough position when fewer tourists visit in the hot summer.
"Retailers here are generally inefficient. There are a lot of them up to their noses in stock...there's going to be some very high long-term discounts from mid-July, August," he said.
At the opening in March of a new Marks & Spencer store at Dubai Mall, itself only open since November, the manager highlighted "recently introduced permanent price reductions" in his speech, according to local media.
But so far there are still visitors who find Dubai can make shopping an aesthetic experience.
"We shop here because the malls are so beautiful," said Scottish tourist Carol Scott, also on a visit to the Mall of the Emirates. "I don't really shop like this usually."
(Editing by Sara Ledwith)
© Thomson Reuters 2023 All rights reserved.