DSG's Pixmania seeks Europe travel partner
PARIS (Reuters) - PIXmania, DSG International's (DSGI.L) French online retail arm, wants to sell travel services and could seal a deal with a European partner during the summer, its chairman and co-founder said on Thursday.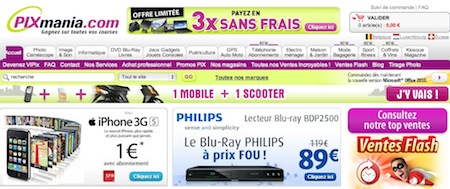 Pixmania screenshot
PIXmania, Europe's largest online retailer after Amazon.com (AMZN.O), is regularly approached by companies interested in buying it but believes its majority shareholder has no intention to sell, Steve Rosenblum told Reuters in an interview.
PIXmania, whose French rivals include RueDuCommerce (RDCF.PA), CDiscount.com (CASP.PA) or PriceMinister, intends to grow mostly organically but could resort to acquisitions in order to secure teams and product expertise, he added.
"We are going to offer travel services. A tender is on. We are looking for a partner that can cover all Europe, a travel company whose name is recognised. I think this will be done before the end of summer," he said.
Created in 2000 by the Rosenblum brothers Steve and Jean-Emile, PIXmania primarily sells consumer electronics online but has been diversifying into books, toys, household equipment, Do-It-Yourself and sports equipment.
Consumer electronics made 85 percent of the group's sales in value last year, a ratio that should decline to 80 percent this year and to 60 percent within three years.
PIXmania also offers e-commerce outsourcing services under the e-merchant banner to large clients such as Bouygues Telecom (BOUY.PA) or luxury pen and lighter maker ST Dupont (DPTP.PA).
Last year PIXMania responded to calls for offers to manage the Internet platform of French retailer Carrefour (CARR.PA) but since then the tender has been dormant.
While primarily focussed on e-commerce, which makes 93 percent of sales, PIXmania also operates 17 stores in Europe.
It employs 1,400 people, is present in 26 European countries, has 7 million clients and 30 million unique visitors per month. France makes up 30 percent of global turnover but could make 25 percent within 4 years as PIXmania expands in Europe.
EYES SALES, PROFIT GROWTH
Revenue rose 15 percent to 897 million euros in fiscal year ended April 31, 2010, despite a global economic slowdown and declining sales in non-Euro countries such as Britain, Scandinavia and some Eastern European countries.
The group achieved Earnings Before Interest and Taxes (EBIT) of 8 million euros, a 50 percent rise year-on-year.
Rosenblum told a news conference that for the current fiscal year 2010-11, Pixmania eyed sales of over one billion euros and an increase in profitability. Within four years, he targets sales of over 1.5 billion and an EBITDA margin of 6-7 percent.
PIXmania's parent DSG International posted a 61 percent rise in annual profit on Thursday.
Last week, Japanese online mall operator Rakuten (4755.Q) said that it would buy French Internet retailer PriceMinister for 200 million euros in its latest move to expand abroad.
© Thomson Reuters 2022 All rights reserved.