Don't expect the phone to replace the wallet soon
Don't throw your wallet away yet.

Many big-name retailers from Gap to Toys R Us are partnering with banks, payment processors and Google to let shoppers tap their mobile phones instead of swiping their credit cards to pay for goods. But the new mode of payment is not expected to take off in earnest for at least another couple of years.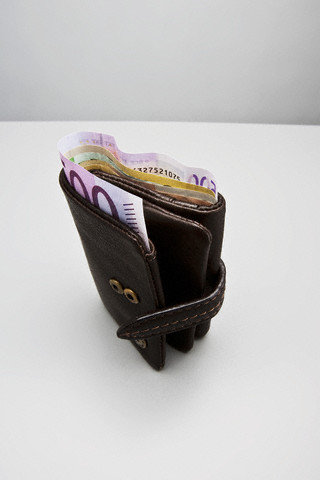 Photo: Corbis Images
A KPMG study released on Wednesday found only 23 percent of consumers were willing to use their mobile phone in place of other forms of payment, with 30 percent of younger adults much more willing to do so.
And that means that all those hopes of retailers becoming more efficient at checkout and banks finding another revenue stream won't be a reality soon.
Shoppers in cities such as New York, San Francisco and Chicago are warming up to the idea of paying by phone, but it will still take another two to four years for widespread adoption, potential participants in the mobile payment industry said.
One major obstacle to universal adoption of the new payment method is doubt among consumers and some companies that paying with one's smart phone is secure and easier than using a credit or debit card or cash.
Jack Koenig, a 52-year-old Broadway actor and New York resident, said he would wait for a while before he tested it.
"I am in no rush. What is the advantage per se? Is it really that much more convenient for me? I don't really think so," Koenig said. "If you lose your phone, you will be screwed."
Richard Mader, head of the technology division of trade group National Retail Federation, said, "Multiple things must come together. Mostly, consumers need to have the right amount of knowledge and education about the technology, and retailers must be able to accept mobile payments."
Others agreed.
"Just the act of paying with your phone is a new thing for most of us. We're also working hard to educate people about why mobile payments represent the future of commerce," said Marc Freed-Finnegan Sr, business product manager of Google Wallet.
Still, it is hard to ignore the small but growing pay-by-phone market. Research firm Aite Group expects the pay-by-phone transactions to total $2.1 billion in 2012 and $22.6 billion by 2015.
While the long-term potential seems huge, near-term hurdles related to security concerns, availability of contactless payment machines and installation costs for retailers are working against the initiative.
Currently only about 500,000 NFC readers (contactless payment machines) have been installed at retailers' point-of-sale locations, or checkout registers, in the United States.
"We feel that it will take time," said David Marcus, vice president of mobile at eBay's (EBAY.O) PayPal unit. "We don't want to ... solely rely on NFC to go offline in a big way."
PayPal is watching developments in mobile payments but also getting ready to roll out a "wallet in the cloud" initiative that lets shoppers pay using their computers, cell phones and cards that give access to their coupons, or by simply typing their mobile number and pin at checkout counters.
Amid other challenges, 71 percent of 970 companies surveyed by KPMG said they believed they must overcome security concerns to succeed in mobile payments.
And changing that will take time.
"2012 will be about a beta and expanding that beta test. It will take some time for these this to become mainstream," said Thomas Kunz, senior vice president at PNC Financial (PNC.N). Kunz oversees the Pittsburgh-based bank's payments and e-business.
"There are 11 million merchants in the United States, and nobody's being paid to make this change," Kunz said. "Using a phone instead of a card is not such a big deal, at least right now."
So far, U.S. wireless operators Verizon Wireless (VZ.N), AT&T (T.N) and T-Mobile USA (DBKGn.DE) have joined with Discover (DFS.N) to form a joint venture targeting mobile payments.
Wireless competitor Sprint (S.N) meanwhile has joined with a host of companies in a another joint venture. In it Google will supply Google Wallet software that today can hold MasterCards issued by Citi (C.N), and FirstData will provide infrastructure for securely delivering payment credentials to Google Wallet.
Google (GOOG.O) has also signed agreements with Visa (V.N), American Express (AXP.N) and Discover, and hopes to include their cards in Google Wallet, Freed-Finnegan told Reuters.
Starbucks (SBUX.O), which has had a lot of success with its own mobile apps due to the overwhelming response from its tech-savvy and relatively well-heeled consumers, is also optimistic about the potential of mobile payments.
"It will be a big deal. It is just a matter of time," said Adam Brotman, senior vice president and general manager of Starbucks Digital Ventures.
SO FAR SO GOOD
Despite the lack of immediate rewards, some store chains are currently testing the payment method, and more merchants are expected to join the pay-by-phone bandwagon in 2012.
American Eagle Outfitters (AEO.N), Container Store, Foot Locker (FL.N), Guess (GES.N), Jamba Juice (JMBA.O), Macy's (M.N), OfficeMax (OMX.N), Toys R Us and Gap (GPS.N) are among the chains that let shoppers use "Google Wallet."
They let shoppers pay for goods, redeem coupons and earn rewards points, all with a single tap of their phone.
"They love it. We did a demo event at our Times Square store in which customers got to use loaner phones to try out the technology," said Jani Strand, a spokeswoman for teen apparel chain American Eagle.
"It's still very early, but the goal is to make the AEO shopping experience as fun and convenient as possible. Our customers are rarely without their smartphones, so any engagement that connects with them through these devices tends to be effective," Strand added.
Currently about 200 Toys R Us and Babies R Us stores let shoppers pay using their smartphones, Toys R Us spokeswoman Katie Reczek said.
"We will continue to evaluate the program to make a determination about expanding its offering to additional locations," Reczek added.
In addition to the playing the convenience card, many such as MasterCard (MA.N) and Google said the pay-by-phone method is actually safer than regular credit card transactions.
Purchases by phone are safer because of the added software limits in place to keep people from accessing your data improperly, whereas they can just swipe a number off a debit card illicitly, MasterCard executive Mario Shiliashki said.
"Google Wallet goes far, far beyond the protections that you have in place for your wallet today. Google Wallet is a much more secure platform -- it's truly a wallet you can lock," Google's Marc Freed-Finnegan said.
Also, consumers are more likely to carry their phone than anything else, because it has become a key social tether.
"You're more likely to leave your home without your wallet or your cigarettes than you are your phone. And I mention cigarettes because the phone has become more addictive than the most addictive substance out there," Shiliashki said.
(Reporting by Dhanya Skariachan in New York and Joe Rauch in Charlotte, North Carolina; Editing by Steve Orlofsky)
© Thomson Reuters 2023 All rights reserved.