Discounts, heat fuel August US retail sales beat
CHICAGO, Sept 2 (Reuters) - U.S. retailers posted better-than-expected sales in August as consumers sought out bargains during the key back-to-school selling season.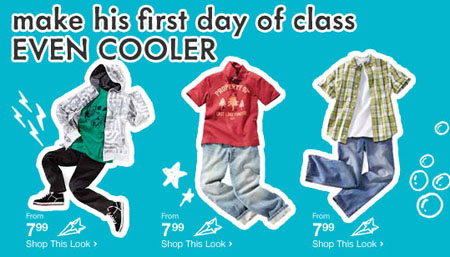 Target - Back-to-school offering
The warmest August in more than a quarter of a century also helped lift sales of what summer apparel remained on store shelves. Off-price retailer TJX Cos Inc (TJX.N) even said its sales were hurt slightly because it did not have enough summer clothes in stock.
Based on reports from 20 retailers, including discounter Target Corp (TGT.N) and department store operator Macy's Inc (M.N), 13 posted sales that beat Wall Street estimates, according to Thomson Reuters data. Industrywide, same-store sales rose 3.3 percent, while analysts had forecast an increase of 2.5 percent for the month.
The news lifted shares of Costco Wholesale Corp (COST.O) and department store chain J.C. Penney (JCP.N) by 1 percent. Teen apparel retailer Abercrombie & Fitch (ANF.N) shed 1.7 percent.
The Standard & Poor's Retail Index .RLX rose 1.1 percent.
The reports also suggested that retailers were able to clear excess inventories ahead of the crucial holiday-selling season without having to resort to deep discounts.
But with stubbornly high unemployment and weak consumer sentiment, shoppers were still focused on low prices when choosing what to buy.
"The cheaper it is, the more I go there," Jialing Jiang, a Chicago high school student said on Wednesday as she shopped on the city's State Street.
On Thursday, the Labor Department said new U.S. claims for unemployment benefits fell, but were still too high to signal a real turnaround for the labor market.
"We're seeing traffic out there -- the consumer is out. But it's a promotional environment right now," said David Bassuk, managing director of the retail practice at Alix Partners.

HOT TIMES, HOT SALES
August 2010 was the warmest since 1983 and second warmest in 50 years, according to Planalytics Inc, which provides weather information to businesses. Sales tax "holidays" in several states also helped lift sales of selected items, analysts said.
Retailers will face tougher comparisons to 2009 sales starting in September, after lapping declines in same-store sales in 2009 so far this year.
Department stores like Macy's and J.C. Penney beat expectations with sales increases of 4.3 percent and 2.3 percent, respectively. Retailers that focused on low prices continued to be among the best performers.
Warehouse club operator Costco said U.S. same-store sales rose 5 percent in August, excluding sales of gasoline, beating the average analyst estimate of 3.6 percent.
Dollar store operator Family Dollar Stores Inc (FDO.N) said same-store sales rose 6.1 percent in the fourth quarter ended Aug. 28, beating the average analyst estimate of 3.1 percent.
Limited Brands Inc (LTD.N) posted a same-store sales increase of 10 percent, led by a 15 percent surge at its women's lingerie chain, Victoria's Secret. Analysts had expected an increase of 7.3 percent for the company.
At the higher-end, upscale department store Nordstrom Inc (JWN.N) saw August same-store sales rise 6.3 percent, better than the 5.9 percent increase predicted by analysts.
(Additional reporting by Emily Stephenson in Chicago and Phil Wahba in New York) (Reporting by Brad Dorfman, editing by Michele Gershberg, Dave Zimmerman)
© Thomson Reuters 2023 All rights reserved.