Diamonds not forever: Rio Tinto may sell business
MELBOURNE/SYDNEY - Rio Tinto, the world's third-largest miner, effectively invited bids on Tuesday for its diamonds business, on its books at 752.1 million pounds, and joined rival BHP Billiton in backing away from a business that has lost its sparkle.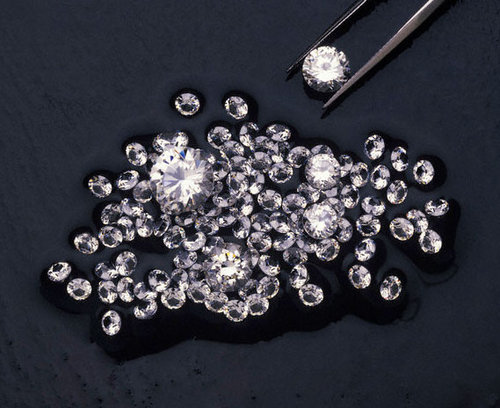 Photo: Corbis
Rio Tinto, which runs three mines in Australia, Canada and Africa, said it was reviewing its diamond business and would consider selling it, as it focuses on expanding in more profitable commodities such as iron ore, copper and uranium.
Its diamond business - the 100 percent-owned Argyle mine in Australia, famous for its pink diamonds, as well as 60 percent-owned Diavik mine in Canada and 78 percent-owned Murowa mine in Zimbabwe - could come on the market at the same time as BHP Billiton tries to sell its Ekati diamond mine in Canada.
"We have a valuable, high quality diamonds business, but given its scale we are reviewing whether we can create more value through a different ownership structure," Rio Tinto's diamonds and minerals CEO Harry Kenyon-Slaney said in a statement.
Rio Tinto's diamonds business could fetch around $2 billion, estimated one industry analyst, who declined to be named as he is not the lead analyst on the company.
It could attract the same bidders in the running for BHP's Ekati diamond mine stake, including private equity firm KKR and luxury jeweller Harry Winston, which already has a 40 percent stake in Rio's Diavik mine.
A drop in diamond prices since July, knocked by Europe's downturn, has hit sentiment towards the sector, but the longer-term dynamics for the industry are looking up, with India and China expected to drive longer-term growth in demand.
NO CARTEL REVIVAL
Rio mined 11.7 million carats of diamonds last year, about a third of the amount dug up by each of the world's top two producers, Russia's state-owned Alrosa and De Beers.
Alrosa produces 24 percent of the world's diamonds, De Beers 21 percent, and Rio and BHP about 7 percent each.
Rio and BHP's exit from diamonds is unlikely to resurrect the diamond cartel they broke up a decade ago when they refused to sell their diamonds through De Beers, as the South African giant is now owned by global miner Anglo American.
"I'm not sure that's a way De Beers wants to go, or they are the right buyer to snap it up," said David Lennox, an analyst with broker Fat Prophets in Sydney.
Rio's diamonds assets would not be big enough anyway to enable De Beers to rebuild its cartel.
"Besides, if that appeared to be De Beers intention, I'd expect to see flags go up from anti-competition regulators," said Lennox.
For Rio, the business last year accounted for less than 0.1 percent of group net earnings, slumping 86 percent to just $10 million on revenue of $727 million.
The open-pit Argyle mine, undergoing a $2.1 billion expansion underground, is the largest diamond producer in the world by volume and the largest source for pink diamonds, though only 0.1 percent are actually considered pink.
Rio's shares rose 0.6 percent to A$64.10, lagging a 0.9 percent rise in the broader market.
© Thomson Reuters 2023 All rights reserved.