Diamond rebound threatened by Russia supply
LONDON (Reuters) - A tentative recovery in diamond prices could be knocked back by supplies from Russia or top producer De Beers, an analyst said on Tuesday 7 July.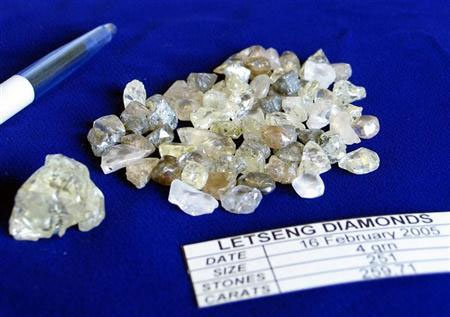 Diamonds are displayed at Letseng mine in Lesotho in a file photo - Photo: REUTERS/Peter Apps
"The outlook for rough diamond producers has improved since the extreme distress of November to March and diamond prices have increased month on month since March," Dominic O'Kane at Liberum Capital said in a note.
"However it is far too early to call a sustainable recovery given the brittle recovery in diamond credit availability and the overhang of rough supply from Gokhran (the Russian State repositary) and De Beers that could now potentially enter the pipeline."
De Beers, the world's biggest diamond producer, is 45 percent owned by mining group Anglo American.
Alrosa, the Russian state diamond producer, has been selling its diamonds to Gokhran instead of selling at a loss on the open market, the note said.
"Whilst these warehoused stones are believed to be broadly lower value categories ... this Russian inventory could potentially flood the market."
Liberum met on Monday 6 July with the chief executive of Gem Diamonds, Clifford Elphick, who was quoted as saying prices for the high-quality diamonds from its flagship Letseng mine in Lesotho had shown a strong recovery.
Average prices at its June tender were about $2,000 per carat, more than double the $970 realised in January and February, but still below $2,500 seen in August 2008, Liberum said.
"Producer discipline to date has been impressive with total supply in 2009 estimated by Elphick at sub 100 million carats versus 161 million carats in 2008. However De Beers (now at 60 percent of capacity) and other smaller rough diamond producers are beginning to restart idled capacity."
Petra Diamonds released a trading statement on Tuesday 7 July, saying rough diamond prices have recovered by around 25 percent, but trading conditions remained challenging.
© Thomson Reuters 2023 All rights reserved.