Diamond prices seen up in 2012 on sparkling demand
VICENZA - Prices of rough diamonds are expected to rise this year after a turbulent 2011, driven by recovering consumer demand in the United States and a robust appetite for the gems in Asia, the head of the World Diamond Council (WDC) told Reuters on Monday.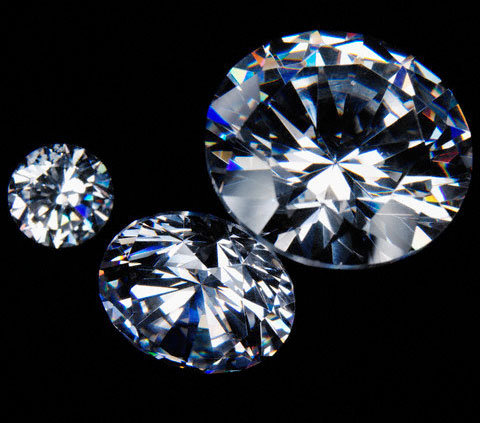 Photo: Corbis
Diamonds had a rollercoaster 2011, with a bumper first half followed by a steep drop in prices as markets unraveled over the summer months, despite the dearth of new mines, low inventories and Asia's growing demand.
"Prices have been stabilizing and (are heading) towards going up again. Outlook seems to be bullish," the WDC President Eli Izhakoff said in an interview on the sidelines of the annual meeting of the council, which represents diamond manufacturing and trading companies, held this year in northern Italy.
"I think the prices will end the year ...higher," Izhakoff said. He declined to give a more precise forecast.
Demand in the U.S., the world's biggest consumer of polished diamonds, has been strong so far this year as the world's biggest economy shows signs of recovery. Forecasts for demand in India and China are also very positive, Izhakoff said.
Asia's growing appetite for diamonds has helped the sector offset weaker patches elsewhere and is key to several market debuts in the pipeline, not least the Hong Kong initial public offering of London-based high end jeweler Graff Diamonds. Graff will launch its $1 billion float this month.
Entrepreneur Beny Steinmetz's Octea diamond operations, which include the Koidu mine in Sierra Leone, could brave stock markets later this year, most likely in Hong Kong to tap China's love of luxury.
But Izhakoff said a question mark hung over demand in Europe, which is struggling to rein in the unfolding euro zone sovereign debt crisis. He added consumer demand in Europe was largely driven by tourists from Asia and eastern Europe while local demand is hit by austerity measures in many countries.
SECOND HALF OUTLOOK
The market expects more stable rough diamond prices in 2012, with an improvement in the second half after a slow start due to inventories built up by buyers when prices weakened.
"Our view is that, provided the leading producers are restrained in what they offer for sale and in the level of their prices, the second half of the year should see further improvement," RBC Capital Markets said in a note on May 11.
"Looking through to 2013 and beyond we are more optimistic, though the economic turmoil in Europe will continue to weigh on sentiment," the RBC capital Markets analysts wrote.
Diamond demand is expected to exceed supplies this year, giving a fundamental support to prices, but announced exits of major mining companies from diamond operations is unlikely to reduce supply of rough diamonds to the market, Izhakoff said.
Mining giants Rio Tinto and BHP Billiton have said they could sell their diamond units, putting, between them, four major diamond operations on the block - a huge number in an industry that gets most of its production from 20 or so mines, and where no large discovery has been made in 15 years.
Some analysts have said such exits could lead to a reduction of investment in diamond mining and hence to a reduction in supplies. But Izhakoff said he would expect any possible buyer of the mines to have enough funds to pump into production and keep supplies steady.
© Thomson Reuters 2023 All rights reserved.