Diageo and Moet Hennessy, a deal made in heaven?
By David Jones
LONDON (Reuters) - Diageo Plc (DGE.L), the world's biggest spirits group, would love to get its hands on Hennessy and Moet & Chandon, respectively the globe's best selling cognac and champagne, but the idea may need time to mature into a deal.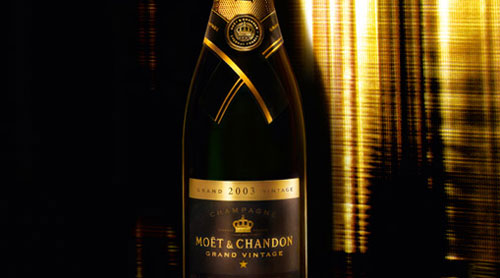 Moët & Chandon of LVMH group
LVMH, the world's largest luxury goods group, has denied being in talks to sell its 66 percent owned wines and spirits unit Moet Hennessy, but market talk is unlikely to disappear about a deal that would make such good strategic sense.
Diageo's links with LVMH (LVMH.PA) go back 22 years, when Guinness -- one of the groups which went to create Diageo -- struck up a joint venture. Only a dozen years ago LVMH Chairman Bernard Arnault tried to join his drinks brands with Diageo's and give him a key controlling hand.
The result of the 22-year linkup is that Diageo holds 34 percent of Moet Hennessy, but at current spirit company valuations it could cost Diageo over 10 billion euros ($12.9 billion) to buy out Arnault and give the Frenchman cash to expand his fashion empire.
London-based Diageo already has the world number one brands in whisky, vodka, gin, tequila and liqueurs in Johnnie Walker, Smirnoff, Gordon's, Jose Cuervo and Baileys, so adding Hennessy and Moet & Chandon would make sense.
"We would see this as an excellent strategic acquisition for Diageo. It would fill the last major gap in its portfolio through the acquisition of by far the leading brand in the cognac category," said analyst Matthew Webb at brokers Cazenove.
Diageo declined to comment, but with all its key executives in an annual strategy meeting at its own Gleneagles hotel in Scotland this week, any imminent move seems unlikely.
However, a deal would bring Diageo into the attractive cognac sector and is the only way in as its 34 percent stake in Moet Hennessy precludes it from looking at others such as Remy, Martell or Courvoisier, even if Remy Cointreau (RCOP.PA), Pernod Ricard (PERP.PA) or Fortune Brands (FO.N) wanted to sell.
BRAND INTEGRATION
Analysts note a deal would allow Diageo to consolidate Moet's cash flow rather than just taking a dividend for its 34 percent stake, and bring Moet Hennessy brands within its wider geographic distribution system.
Diageo could well integrate Moet Hennessy with its own luxury brands business which sells top-end Johnnie Walker Blue Label whisky, Ciroc vodka, Zacapa rum and Don Julio tequila.
But why would Arnault want to sell? One investment banker said Arnault is a builder of businesses not a seller and the spirits side gives him a steady stream of income even in recession to offset its cyclical fashion businesses.
Paris-based LVMH was quick to deny media reports suggesting the group is in talks to divest Moet Hennessy. "LVMH confirms that no such negotiations are taking place," it said.
When Guinness and GrandMet merged in 1997 to form Diageo, Arnault's LVMH had a 14.2 percent stake in Guinness and as its biggest shareholder had a major say in the merger.
Then, Arnault proposed merging the wines and spirits businesses of Guinness, GrandMet and Moet Hennessy and pouring away Guinness brewing, Pillsbury and Burger King, giving him a 35 percent stake and effective control of the resultant group.
Arnault's assault was fought off, but Diageo went on to follow most of his advice, selling Pillsbury and Burger King, though it kept beer. Arnault sold his resultant stake in Diageo but the Moet Hennessy joint venture survived.
The rationale for Arnault selling appears to be that he could get a good price for a business which has held up relatively well in the recession, giving him the financial ability to expand the fashion side of LVMH's business where valuations have been hard hit by the downturn.
Cazenove's Webb says looking at previous deals in the spirits industry, the valuation of the 66 percent stake in Moet Hennessy would be between 10.6 billion to 14.5 billion euros, but this would likely be lower as potential savings from the deal will be far lower than in previous takeovers.
This is due to already existing distribution overlaps between Diageo and Moet Hennessy and also because Diageo's 34 percent stake means there is only one realistic buyer.
Another investment banker said Moet Hennessy was attractive because of its premium status, especially Hennessy. "It's one of the iconic brands like (vodka) Absolut for which the leading drinks players may be prepared to pay up," he said.
(Additional reporting by Victoria Howley; Editing by David Holmes)
© Thomson Reuters 2023 All rights reserved.