Designer Roberto Cavalli confirms to wait on sale
MILAN, Sept 24 (Reuters) - Italian designer Roberto Cavalli reiterated on Wednesday, September 24th that he would wait to decide whether to sell a stake in his fashion house.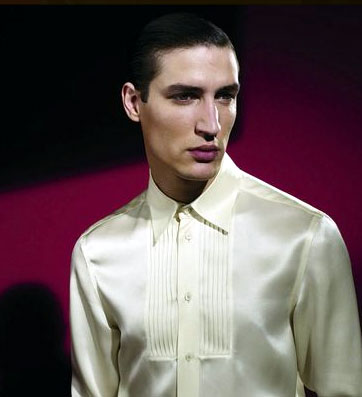 Roberto Cavalli collection
Cavalli, known for his bold prints and long flowing dresses, told an Italian newspaper in July that he would not sell a stake yet, as prices had fallen during the financial market crisis, and would not discuss a potential sale before 2009.
"I abandoned (the auction plans). I did not have financial needs to do it," he told Reuters ahead of his spring/summer 2009 womenswear show. "I will wait."
An auction earlier in the summer initially attracted an array of potential bidders, including buyout giants Blackstone [BG.UL] and TPG Capital LP [TPG.UL], drawn by the company's growth potential in emerging markets.
But interested buyers struggled to secure financing as a result of the financial market turmoil and battled to lower Cavalli's price expectations, sources said.
Italian fashion companies, often still run by the founding family, are under pressure to bring in outside capital or management as competition mounts from major luxury conglomerates such as France's LVMH .
Italian fashion industry association Altagamma warned before the summer that a difficult environment would get more challenging. Although luxury brands appear to be weathering the worst of financial storms, caution remains.
Analysts and bank sources told Reuters this month that fashion brands Prada and Salvatore Ferragamo look likely to delay listing plans from this year into next due to market turbulence.
Cavalli showcased light and playful designs at his womenswear show, using crochet detailing on transparent dresses and bandana-style prints on three-piece suits. (Reporting by Marie-Louise Gumuchian; editing by Simon Jessop)

By Marie-Louise Gumuchian
© Thomson Reuters 2023 All rights reserved.