Designer-hungry China in sight at London fashion
LONDON, Sept 21 | Wed Sep 21, 2011 - Presenting luxurious cocktail dresses, white tuxedo jackets and Asian prints at his fashion show, British designer Julien Macdonald says he has a certain market in sight -- China.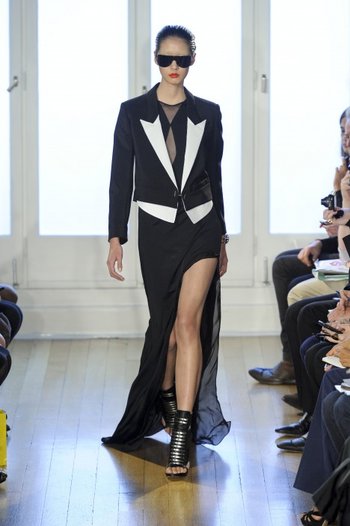 Julien Macdonald - SS 2012 / Photo: Pixel Formula
"We're all in a recession but China isn't, China is booming," Macdonald told Reuters after his spring/summer 2012 show at London Fashion Week.
"The new money is in China, every designer in the world wants to break into China and to the Orient."
Sales of designer goods in China have surged in recent years with the rising spending power of a new class of consumers and their desire to buy into the luxury sector.
The world's biggest luxury market within five years has become a second home for brands such Hermes , Prada and Tiffany & Co that tap Chinese appetite for sports cars, luxury handbags and diamonds.
And British designers have taken note.
"There's quite a boom in the world of fashion and I believe that is mostly because of China," designer Vivienne Westwood told Reuters after her Red label fashion show. "At the moment, we're all benefiting from this big interest in China."
Asked if she was courting Chinese buyers, she said: "No, they're courting me, they've come to us."
At London Fashion Week, which ends on Wednesday, Chinese buyers have been seen taking their seats at catwalk shows.
China's consumption of luxury goods is forecast to grow 18 percent annually to about $27.5 billion by 2015, from about $12.2 billion in 2010, according to consultancy McKinsey.
"About five years ago, everybody was saying it was Russia, and then Russia, India and now it's Russia, India, China," British designer Paul Smith said.
"We do really well in Hong Kong. Next year we'll have one (store) in Beijing, one in Shanghai then hopefully over the next few years, about 20 in the next four years. But it's early days still yet, I'm still very cautious."
CULTURAL CHALLENGES
China's market can be tough to crack, with some cultural challenges to win customer hearts for certain types of products still evident.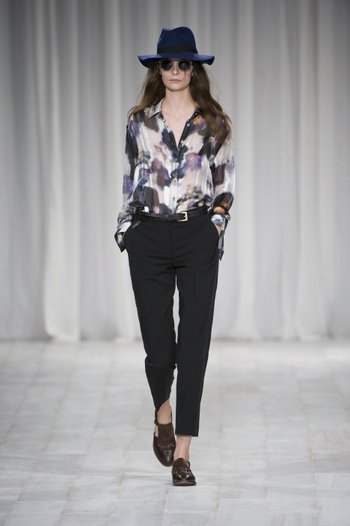 Paul Smith - SS 2012 / Photo: Pixel Formula
Counterfeits cost luxury groups hundreds of millions of euros in lost sales every year and imitations are becoming increasingly refined and sophisticated.
While the number of high-net worth individuals in China is set to continue to rise steadily, the bulk of the country's population cannot afford upmarket Western brands.
Harold Tillman, chairman of the British Fashion Council, said he was taking a group of designers to Hong Kong next month to show their products.
"Next year I'm taking them to Beijing and Shanghai. So we are working on getting the audience," he told Reuters.
While Chinese consumers may be designer "hungry ... we don't have to rush, we've got to do it carefully," he added.
Investors flocked to the flotations of Prada in Hong Kong and luxury goods maker Salvatore Ferragamo in Milan in June, encouraged by their growing exposure to the higher-margin retail business in Asia.
Prada this week posted a 74 percent rise in first-half profit, boosted by strong demand for its products in Asia.
"To go launch a brand in China, you have to have a lot of face time," said designer Alice Temperley, whose dresses have been worn by Britain's Duchess of Cambridge, Kate Middleton.
"The Chinese will only buy something if they feel they can understand the brand's heritage."
By Marie-Louise Gumuchian
(Additional reporting by Basmah Fahim, editing by Paul Casciato)
© Thomson Reuters 2023 All rights reserved.