Crisis shapes new generation at Paris fashion week
By Sophie Hardach

PARIS (Reuters Life!) - Pared-down designs, fewer styles and a muted palette of white, beige and black displayed a sense of modesty at Paris fashion week on Thursday 1 October as a new generation of designers cut their teeth on tighter budgets.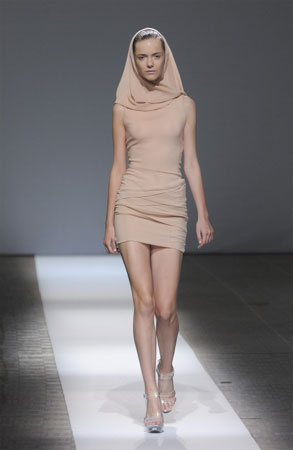 Bruno Pieters spring-summer 2010 at Paris Fashion Week - Photo: Pixel Formula
Irish designer Sharon Wauchob dreamed up soft, feminine dresses with touches of lace and metallic detail, while Belgian Bruno Pieters added wafting headscarves to tight, flesh-coloured, black and white jersey dresses.
Hot pants, short belted jump suits and tapered trousers emerged as a trend for spring/summer 2010, with bold orange and blue prints at emerging Indian designer Manish Arora's show adding a rare splash of colour to the collections.
"Poverty stimulates creativity," Pieters told Reuters in a backstage interview. "Times of crisis are always interesting -- I had a limited budget, which meant fewer looks and patterns."
Designers in Paris, the world's fashion capital, have responded to the economic downturn by moving to smaller venues, scrapping fancy invites and cutting back on parties.
But there are also deeper changes: young designers no longer see Asian manufacturing and cost control as taboo, and show a down-to-earth realism when talking about price and quality.
"Over the past three to four years, more and more designers moved their diffusion lines to China. The crisis will accelerate this movement," said Anthony Keung, president of Hong-Kong based Fenix Group Holdings, in an interview before Wauchob's show.
Keung, who produces knitwear for the cheaper lines of Wauchob as well as Armani, Paul Smith and Max Mara, said beside the lower labour costs -- his workers earn $200 a month -- China was now also able to offer good quality. His high-end factories use machines and techniques imported from Europe.
He expects designers to keep their most expensive, prestige brands in Europe but shift the rest to Asia.
"If it's luxury, it has to be real luxury," Wauchob told Reuters backstage surrounded by black broderie anglaise and sparkling white gilets. "It's about value."
The absence from this season's schedule of Christian Lacroix, traditionally one of the biggest names at Paris fashion week, was a stark reminder of the industry's troubles.
Loss-making Lacroix is under administration and looking for a buyer, with the latest bid coming from a Gulf investor.
But some hope that the crisis will be an opportunity for new talent to make its mark.
"Before, magazines and fashion houses would systematically use the same well-known models and photographers," said Maud Lemoine, a model scout, in a joint interview with her business partner, Penelope Heim. "With the crisis, they will have to make space for younger photographers."
(Editing by Elizabeth Fullerton)
© Thomson Reuters 2023 All rights reserved.