Cost rises force AB Foods to cut Primark margin
April 27 - Primark owner Associated British Foods warned of flat annual earnings on Wednesday as spiralling costs and squeezed consumer spending hit Primark's margin after beating half-year earnings forecasts.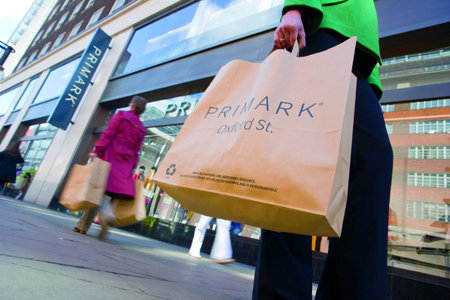 Primark store on Oxford Street, London
April 27 - Associated British Foods will take a hit to its full-year earnings by cutting margins at its star-performing discount fashion chain Primark to absorb spiraling costs and defend its market position.
The strategic move to cut margins overshadowed the group beating half-year earnings forecasts and AB Foods shares fell more than 6 percent, prompting many analysts to trim their full-year earnings forecasts.
Chief Executive George Weston said Primark, whose top-selling lines include tribal-print maxi dresses and tassel shorts, would not surrender its price leadership in clothing.
Weston, whose family holding of 55 percent in AB Foods makes him one of Britain's richest CEOs, said the group would take a hit to its profit margins to soften the blow for customers from the recent sharp rise in cotton and other input costs.
And he said the decision to absorb more of the input cost rises at Primark and the higher costs of processing sugar beet in Britain had led the group to cut its full-year forecast to flat earnings, from a previously expected rise.
"We are determined to be the best value on the high street, so we are going to absorb more of the cost increases at Primark," Weston, a grandson of the group's founder, told Reuters.
Cotton prices are still high CTc1 but off record highs seen in March, while Weston said freight and labour costs had risen, as had Britain's VAT sales tax in January.
Analyst Graham Jones at brokerage Panmure Gordon said Primark had largely absorbed the VAT increase and cotton cost rises with only modest price rises in its stores last autumn.
MARGIN DIP
Late last month, Primark-rival Hennes & Mauritz also decided not to pass on surging cotton costs to its customers and saw a 30 percent fall in quarterly pretax profit, while more mid-market Marks and Spencer Plc had more room to push up prices.
Operating margin across Primark's 214 stores dipped to 10.7 percent from 11.4 percent previously and full-year margins were likely to be around 10.9 percent, well down from 12.5 percent in 2009/10 and near 10.9 percent in 2008/09.
AB Foods shares were off 6.7 percent at 976 pence by 0915 GMT, the biggest faller in a largely flat FTSE 100 index. The shares have underperformed the index by 12 percent this year on concerns over input costs and weak consumer demand.
Joint house brokers Panmure Gordon and Credit Suisse trimmed their earnings per share forecasts to 73.2p and 72.8p respectively for the year to mid-September, compared with 72.2p the previous year.
The group posted adjusted earnings of 32.9p a share for its half-year to March 5, beating a consensus of 32p from Thomson Reuters I/B/E/S and compared with a previous 30.5p.
The group, which also markets Silver Spoon sugar, Twinings tea, Ovaltine drinks and Kingsmill bread, said it would raise its half-year dividend 4 percent to 7.9p a share.
Weston said Primark saw improved trading since the end of February with its new spring and summer ranges in womens' fashion, accessories and shoes selling well.
"January and February were weak, but since the end of February shoppers have come back after Christmas and trading has picked up strongly," Weston said.
Its sugar side has gained from world sugar prices which, although down from February's record highs, are still at a high levels SBK1 and which helped boost operations in China and Spain, offsetting a fall in majority-owned Illovo.
UK sugar profits for the full year will be hit by 20 million pounds of extra costs for processing sugar beet damaged by freezing weather in Britain before and after Christmas.
(Reporting by David Jones)
(Editing by Alexander Smith and David Holmes)
© Thomson Reuters 2023 All rights reserved.