Cost, demand pressures face fashion retailers
Dec 15 - The rising cost of cotton and labor and uneven European demand are set to squeeze fashion retailers, results from world number one Inditex and others in the industry showed on Wednesday.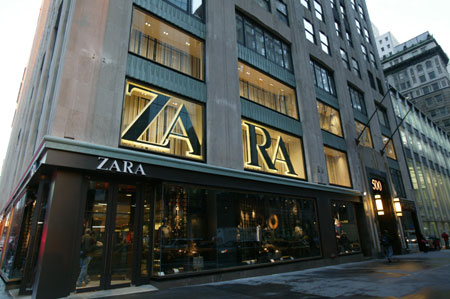 Zara in America
The Spanish group, owner of the ubiquitous Zara brand, signaled a slowdown in underlying sales as it met forecasts with a 42 percent jump in nine-month net profit.
Earnings were driven higher by rapid expansion in fast-growing Asian markets and a focus on affordable fashions.
But sales in local currencies were up 10 percent from August 1 to December 12, a figure which some analysts said amounted to a slowdown in recent weeks after stripping out new store openings.
"This does not bode well, said SG analyst Anne Critchlow.
At 1120 GMT Inditex shares, which have surged around 45 percent this year, were down 3.6 percent at 60.19 euros, one of the biggest declines among European blue-chip companies.
Shares in Sweden's Hennes & Mauritz, Europe's No.2 clothing retailer, were also dragged lower despite reporting a rise in same-store sales for November, that came in just ahead of analysts' expectations.
Britain's SuperGroup, home of the Superdry brand worn by celebrities such as David Beckham and Zac Efron, also dropped despite a big rise in first-half profits, as it warned rising input costs could hit margins next year.
EMERGING MARKETS
International retailers are increasingly relying on fast-growing emerging markets to drive growth amid an uneven economic recovery in Europe and the United States.
Best Buy, the world's No.1 electricals retailer, missed quarterly earnings forecasts on Tuesday, while the pressure on Inditex's home market was underscored on Wednesday when credit rating agency Moody's said it had put Spain on review for possible downgrade.
Inditex, which also owns youth label Bershka and preppie brand Massimo Dutti, said sales in Spain were stable.
The group, with 4,907 stores in 77 countries, has been expanding rapidly in faster-growing markets like China. But its exposure to Spain remains high at 28 percent in the first half of its fiscal year down from 32 percent in the same period of 2009.
"We still have the Christmas and post-Christmas season ahead of us, so I would say the 10 percent sales growth in local currencies is very reasonable." Marcos Lopez, Inditex's head of capital markets, told analysts on a conference call.
And despite the signs of slower sales growth, some analysts were encouraged by Inditex's financial strength.

By Sonya Dowsett and James Davey
© Thomson Reuters 2023 All rights reserved.