Cost-conscious French consumers eye summer sales
June 21 - Nearly eight in 10 French people plan to take advantage of summer sales starting on Wednesday, an opinion poll showed, with households hit by stagnant purchasing power seen eager to snap up cut-price bargains.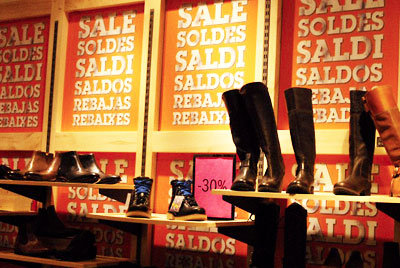 The summer-sales last from June 22 to July 26 in France - photo: corbis
The IPSOS poll for the National Council of Commercial Centres shopping centre association suggested tough economic times will make the mid-year sales as big a rite as ever for cost-conscious consumers, as was seen in the January sales.
"This year, even more than last year, the sales are the solution to the purchasing power problem for French consumers," CNCC managing director Jean-Michel Silberstein said in a statement.
French households have seen their purchasing power stagnate even as the economy has recovered from the 2008-09 economic crisis, official data shows, and polls consistently find the trend ranks as a top concern 10 months ahead of a presidential election.
Tuesday's survey found shoppers plan to fork out nearly 260 euros each on average during the June 22 to July 26 sales, with new shoes being their top priority.
Household consumption is a major economic engine in France, generating two-thirds of the 1.5 percent growth that France saw in 2010, according to the INSEE national statistics office.
Back in January, a study by a research centre on living standards suggested that 53 percent of French consumers now regard the sales as a budgetary necessity, up from 47 percent in 2005, before the economic crisis hit.
Even the centre-right government -- which is pushing through a plan to make company bonuses compulsory as it comes under fire from the left-wing opposition for the stalling in buying power -- acknowledges that sales have become vital for many households.
"Of course it's a bit festive, but it's become a budgetary necessity for a majority of households," junior commerce minister Frederic Lefebvre told Canal Plus television.
The poll was carried out among 1,015 people above the age of 16 between June 3 and 7.
(Reporting by Elizabeth Pineau; Writing by Leigh Thomas; Editing by Catherine Bremer, Ron Askew)
© Thomson Reuters 2023 All rights reserved.