Corset swimsuits hot on NY fashion runways
By Jan Paschal
NEW YORK (Reuters) - Corset swimsuits and vintage halter styles will give women a firm foundation next spring and summer, judging from the swimwear designs on New York's fashion runways.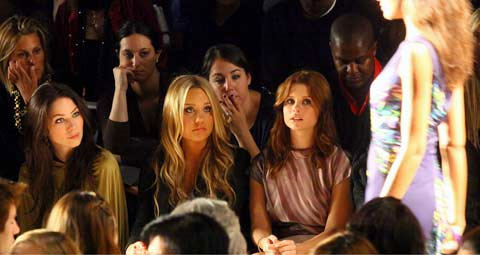 Photo: www.mbfashionweek.com/newyork
While full clothing lines dominate collections at the semi-annual Fashion Week, designers such as U.S.-based Norma Kamali, Israel's Gottex and Brazil's Rosa Cha are best known for the swimwear they show to the thousands of retailers, buyers and media on hand to see what looks are on offer for next spring and summer.
"The structure is what's important, the construction of the swimwear," Brazilian designer Alexandre Herchcovitch told Reuters before making his swimwear debut with Sao Paulo-based label Rosa Cha.
"It's a little bit of underwear," he said of the inspiration for his chambray corset one-piece suits. "What to hide, what to show -- the perfect fit for different kinds of bodies."
His retro two-piece suits, which pair high-waisted bottoms with halter or bandeau tops, evoke Hollywood movie stars of the 1940s and 1950s.
Fashion labels and retailers have been hit hard by recession, and Kamali said swimwear's shape fits the times.
"With our economy and our security so threatened, anorexia doesn't have a place any more," Kamali told Reuters. "It will give way to a healthy, fit body. It can have curves. It's geared to survival."
Kamali is known for bringing Hollywood-style glamour to swimwear, especially with her top-selling swimsuit, the "Bill," a one-piece halter that retails for $350.
The suit is hugely popular, with fans such as Oprah Winfrey vouching for its flattering cut.
"Having been in the swimwear design business since the late 1960s, there's a golden rule you can't break -- the female body," Kamali said.
MEDITERRANEAN-INSPIRED
A strapless corset suit is the top look from Molly Grad, the new young designer for Gottex, an Israeli swimwear manufacturer.
"It's very easy to wear," Grad told Reuters. "All the corset details are created by stitches. It's soft inside."
Her inspiration for prints and colors comes from the Mediterranean Sea off the coast of Herzliya, Israel, where she was born, she said.
Gottex suits sell for about $110 to $190 apiece.
Not every runway style will be retro, Grad said, adding that the collection will have pieces for "every woman from 'bikini girl' to the mature woman."
New York stylist Freddie Leiba, who has worked for InStyle magazine and Harper's Bazaar, said he likes the return to elegant swimwear particularly because of its detailed, structured underpinning.
"I'm always more interested in what lies beneath," Leiba said.
(Editing by Ellen Wulfhorst and Jackie Frank)
© Thomson Reuters 2023 All rights reserved.