Colony says Carrefour should decentralise
June 27 - French retailer Carrefour should consider easing its tight central control over its network of stores, key shareholder Colony Capital's European head said in an interview published on Monday.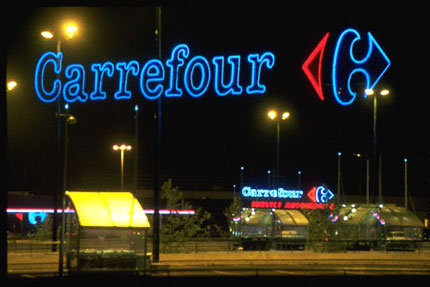 Carrefour supermarket - photo: corbis
"For 10 years the group centralised its processes nonstop," Sebastian Bazin told French newspaper Les Echos. "But the bosses of the hypermarkets in the field know what works on their turf. Maybe we need to give a bit of flexibility to this organisation by delegating certain powers to the individual stores?"
At the same time Bazin insisted that Carrefour was now on the right track and that the private equity firm would stick with it for the long term.
Colony, together with luxury goods billionaire Bernard Arnault, has seen the value of its holding in Carrefour slump in recent years as the retailer has been beset by profit warnings and strategic U-turns.
"The group's strategy is good," Bazin said. "It will take time for this to translate to a recovery in the stock, but we're on the right path."
While the group's top priority is turning around its troubled French operations, emerging markets, including Brazil, are also "very important for Carrefour and it is management's duty to keep close track of them," Bazin was quoted as saying.
Carrefour and its French rival Casino have been squabbling over Brazilian retailer Pao de Acucar , whose key stakeholder is Casino, but whose chairman contacted Carrefour to discuss a possible tie-up.
(Reporting by Christian Plumb. Editing by Jane Merriman)
© Thomson Reuters 2022 All rights reserved.