Chinese group takes over Italian yacht maker Ferretti
JINAN, China - Machinery maker Shandong Heavy Industry Group has sealed a deal to take a 75 percent stake in debt-laden Italian luxury yacht maker Ferretti, the latest in a series of Chinese acquisitions of European brands.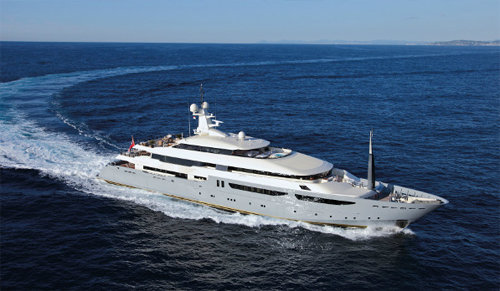 Ferretti Yacht
Chinese companies, acquiring top brands as a shortcut to global success, have been taking advantage of Europe's financial woes by picking up assets on the cheap.
Tuesday's deal, the first Chinese takeover of a top Italian yachtmaker, also reflected the growing demand for luxury in mainland China, where new marinas sprinkle the Southern coast.
"The deal would help Ferretti better tap the 7 billion euro global yacht industry and meet growing Chinese demand for luxury goods for the coming five to 10 years," Ferretti Group Chairman Norberto Ferretti said in a statement.
"China is one of the most rapidly developing countries for the yachting sector and has great potential," the companies said in a joint statement released at a signing ceremony in the eastern Chinese city of Jinan.
Ferretti's key management team, headquarters and production bases will remain in Italy, the companies said. Shandong Heavy said it plans to build yachts in China for the domestic market.
"China offers an opportunity to our companies, especially when our economy is not going well," Anton Francesco Albertoni, head of Italian industry body UCINA, told Reuters.
Italy has long dominated the yachting industry, which contributes 3.36 billion euros to the country's economy.
"Chinese are learning fast and well. They love their marinas and golf clubs," Albertoni said.
Shandong Heavy will seek a separate listing for Ferretti in Hong Kong in three to five years, Chairman Tan Xuguang said.
NEW CREDIT FACILITY
Under the deal, Ferretti's roughly 580 million euros existing loans will be reduced to 116 million euros. In addition, Ferretti will receive a new 80 million euro revolving credit facility, said John Davison, global head of strategic investment at Royal Bank of Scotland Group Plc, one of Ferretti's main creditors.
Shandong Heavy will make an 178 million euro equity investment for its 75 percent stake in the business. There will also be a 100 million euro capital increase, Ferretti said.
Lenders will receive the remaining 25 percent stake in Ferretti through another 25 million euro equity injection, with Royal Bank of Scotland and Strategic Value Partners receiving a 12.5 percent stake each.
Founded in 1968, Ferretti was saddled with 1.2 billion euros of debt in 2007 after the company's leveraged buyout by Candover Partners. The company defaulted on its debt in January 2009 during the economic downturn.
Ferretti's lenders agreed in April 2009 to write down the debt to 560 million euros in return for a 53 percent stake from Candover, which lost its investment in the firm.
OVERSEAS BUYS
Shandong Heavy, which makes construction machinery, power systems, commercial vehicles and auto parts, is the ultimate parent of Hong Kong and Shenzhen-listed diesel engine maker Weichai Power Co Ltd . Shandong Heavy had operating income of 107.6 billion yuan in 2010.
The trend of Chinese companies' overseas acquisitions is also evidenced by automaker Geely's acquisition of Ford Motor Co's Volvo car unit in 2010 -- and traceable back to 2004 when Lenovo Group Ltd bought the personal computer business of International Business Machines Corp.
The deal followed last month's $3.5 billion buy of the Portuguese government's stake in utility EDP SA by China Three Gorges Corp.
Bank of China Ltd was among the lenders eyeing parts of RBS, as the process began to trim the investment banking arm of the government-owned British bank, sources told Reuters last week.
Ferretti, which owns the Pershing, Riva and Ferretti Yachts brands, ranked the first in the 2011 Global Order Book, the benchmark annual report on the nautical industry by magazine ShowBoat International.
The 2008 crisis hit the sector hard, prompting firms to seek partners in cash-rich emerging countries, a trend likely to continue as the euro debt crisis shows no signs of abating.
A growing number of shipyards has been built in China, where yacht imports increased threefold from 2009 to 2010.
"The opening of new marinas, yachting facilities and yachting events in China, especially on the Southern Coast, is actually fuelling demand for yachts," said Olivier Burlot, managing director of Hong Kong-based international yacht brokerage Simpson Marine.
Citigroup, Holihan Lockey and ICBC International acted as joint financial advisors to SHIG-Weichai Group, while Bonelli Erede Pappalardo and Akerman Senterfitt were legal advisers.
Rothschild and Ernst & Young acted as financial advisers to RBS and Strategic Value Partners. (Additional reporting by Antonella Ciancio in MILAN, Farah Master and Denny Thomas in HONG KONG, Isabell Witt in LONDON; Editing by Charlie Zhu and Helen Massy-Beresford)
© Thomson Reuters 2023 All rights reserved.