China's Sun Art shares surge 37 percent on debut after IPO
July 27 - China's top hypermarket operator Sun Art Retail Group Ltd (6808.HK) jumped 37 percent on its stock trading debut on Wednesday following a $1.1 billion Hong Kong IPO as investors bet on strong growth in the mainland's consumer demand.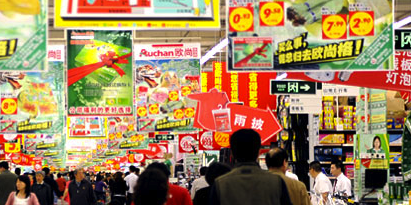 A Sun Art Retail supermarket - photo: Sun Art Retail
Sun Art -- a joint venture between Taiwan conglomerate Ruentex Group and privately held French retailer Groupe Auchan SA -- sold shares at the top of the marketing range in early July, defying a slump in the world's biggest IPO market.
The shares jumped to HK$9.89 each versus the IPO price of HK$7.20, while the benchmark Hong Kong share index .HSI was down 0.1 percent.
Sun Art's strong start makes it the best trading debut this year for a Hong Kong IPO raising more than $500 million. The first-day pop is in sharp contrast to some of Hong Kong's other mega deals, including Samsonite International, which slumped 7.7 percent, and Italian fashion house Prada SpA, which made a flat debut.
"The stock is overpriced but you have no choice but to pay a high premium if you buy pure China growth story (on grocery market segment)," said Alex Wong, a director at Ample Finance Group.
"The stock can jump further as investors are seen excited by its growth story," he added.
The stock was quoted up 18 percent in gray market trade on Tuesday, according to Phillip Securities.
The company had delayed its debut by nearly two weeks due to discrepancy in the IPO prospectus relating to historical earnings per share figures.
Sun Art, which has 51 hypermarkets under construction across China and secured 121 locations for future openings, plans to use 50 percent of the IPO proceeds to open new stores in China, while 30 percent will be set aside to pay down debt.
The remainder of the funds will be used to upgrade and remodel existing hypermarkets, set up new distribution centers and for working capital.
Sun Art is the top hypermarket operator by sales in China, with a 12 percent market share, it said in the prospectus, citing estimates from Euromonitor.
Wal-Mart Stores ranked second, with 11.2 percent, followed by China Resources Enterprise, with 9.8 percent, and Carrefour, with 8.1 percent.
The IPO drew massive interest from Hong Kong investors betting on surging consumer demand in China.
The deal was only the second $1 billion-plus Hong Kong IPO this year to price at the top of expectations, after casino operator MGM China Holdings Ltd in May.
UBS AG, Citigroup Inc and HSBC Holdings Plc acted as joint global co-ordinators for the deal, with BNP Paribas SA, China International Capital Corp, Goldman Sachs Group Inc and Morgan Stanley also helping underwrite the offering as joint bookrunners.
Sun Art also sold $420 million in shares to investors, including sovereign wealth fund Government of Singapore Investment Corp GIC.UL and Malaysian state investor Khazanah.
The IPO price valued Sun Art at 31.5 times 2011 earnings and 24.1 times 2012 earnings, according to the consensus estimate of banks underwriting the deal. Rival China Resources Enterprise trades at a P/E of 32.4 times for 2011 and 26.4 times for 2012.

(Reporting by Denny Thomas and Donny Kwok; Editing by Ken Wills and Muralikumar Anantharaman)
© Thomson Reuters 2023 All rights reserved.