China's rising costs signal end of US retail era
NEW YORK - With labor and other costs in China rising, Americans must bid adieu to a lifestyle of low prices, retail executives say.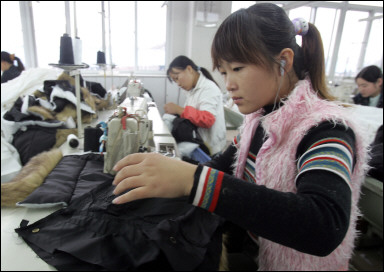 Photo : Goh Chai Hin/AFP
The appreciation of the Chinese currency, higher commodity costs and wage increases for factory workers should make it more expensive to manufacture there, said executives gathered this week at the Reuters Consumer and Retail Summit.
While some production may shift to other places like Vietnam or Indonesia, the sheer scale of China's infrastructure and workforce are enough of a magnet to prevent a mass migration.
That means Western consumers will eventually have to pay more for clothes, electronics and other items that have seen their prices stagnate for some time.
"The American consumer will have to pay higher prices," said George Feldenkreis, chief executive of clothing company Perry Ellis International Inc (PERY.O). "It's only apparel and electronics that keep coming down, everything else in life has come up."
Feldenkreis predicted that prices could rise 10 percent in the next 24 months.
China's ascent over the last 20 years to its role as the world's factory floor led to an unusual worldwide deflationary environment for costs of goods, said Bruce Rockowitz, president of Hong Kong-based Li & Fung (0494.HK), which sources goods for retailers such as Wal-Mart Stores (WMT.N) and Target (TGT.N).
"Now ... the party's over," said Rockowitz. He said recent labor unrest -- including a spate of suicides by workers at Foxconn International Holdings (2038.HK), which makes Apple Inc's (AAPL.O) iPhone and other top-brand electrical goods -- was a sign that the low costs of the last few decades are no longer sustainable.
"This whole Foxconn effect, to some extent, is a natural evolution of a country developing," Rockowitz said. "The workers, especially with the Internet, are starting to see what the real world is like and what other people get paid, and aspire to be more than sewers and laborers."
SCRUTINY BRINGS PROGRESS
Feldenkreis, whose company manufactures swimsuits for Nike Inc (NKE.N) in addition to making its own branded clothing, said U.S. firms have played a key role in improving the working conditions of Chinese workers, partly as a result of the scrutiny that occurred after allegations of companies using sweatshops and child labor.
"Nike has had a lot of problems, but I know for a fact ... to get a factory today approved by Nike, it takes eight to nine months," he said.
John Ermatinger, president of Gap Inc's (GPS.N) business in Asia, said there is a high level of scrutiny today, but that the concerns are much different.
"Fifteen years ago it was basic rights -- cleanliness, break times and some very fundamental issues (like) safety. Today you're seeing that evolve into wage and benefits," he said.
But while those higher wages are driving up costs for retailers, increased income is allowing more Chinese consumers to shop at the retailers' stores.
Gap is planning to open four stores in China this year as it seeks to harness the growing power of Chinese consumers. That power is expected to be enhanced by a strengthening Chinese currency, which may also accelerate cost inflation for U.S. companies doing business there.
PASSING IT ON
Still, retailers had to lower prices to attract U.S. consumers during the recession, so the idea of raising them in the short term might not fly with shoppers.
"In the end, the ultimate answer to all of this is consumer goods are going to get a higher price," said Li & Fung's Rockowitz. He said overall cost of goods were trending up 5 to 10 percent this year, but that how the increase relates to retail prices is still unknown.
"How this gets passed on to the consumer is anyone's guess," he said.
The amount of merchandise sourced from China varies by product and brand. But in general about one-third of the clothes, more than 90 percent of toys, and about 75 percent of the shoes sold in the United States are made in China, according to the National Retail Federation, a U.S. trade group.
Matthew Shay, the group's chief executive, said retailers' ability to pass on higher prices to consumers depends on who else is facing the same issues.
"If they are competing in a market in which everyone is sourcing from the same place and everyone is raising prices, then that's one thing," Shay said. "If they are sourcing things from that market and competing with folks that don't source from the market, then they are going to either price themselves out of the market here, or they are going to have to find ways to cut costs somewhere else."
Given the still-fragile state of the U.S. economy, Shay said retailers might be loath to raise prices for fear that consumers will go back into hiding.
"I think it's going to be a long while until you see people really make dramatic decisions about price adjustments," he said. "We are all enormously price-sensitive."
(Reporting by Martinne Geller, editing by Matthew Lewis)
© Thomson Reuters 2023 All rights reserved.