China's renowned casual-chic designer debuts in Tokyo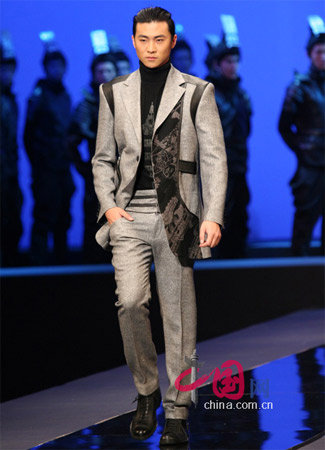 photo : China.com.cn
By Chika Osaka
TOKYO (Reuters Life!) - With casual sweaters and sharp suits in shades of black, white and grey, Ji Wenbo became the first Chinese designer to showcase a collection at Japan's Fashion Week in a bid to woo customers in fashion-savvy Tokyo.
Ji, a veteran award-winning designer at home with the LiLang men's label, said he hoped his Tokyo debut would add international appeal and eventually lead to ventures with Japanese designers.
"I think Tokyo goes well with my style and my future plan," Ji, an avid fan of Japanese fabrics and design, told Reuters.
"I've become friends with lots of famous Japanese designers here so I'm hoping to create an international brand with them in the future."
Last year, Ji became the first Chinese designer to show in Milan during its fashion week.
Ji's Tokyo collection, shown on Wednesday, featured more than 30 men's outfits which he said were inspired by China's famed Terracotta Army.
Black silken suits were jazzed up with diamante brooches and black, white and grey sweaters and cardigans were teamed up with white slacks and handbags.
Ji also included two couture dresses -- in black and white -- for women, showed by top Chinese model Mo WanDan.
Ji became LiLang's designer in 2000 and has helped it become one of the biggest brands in China.
Wang Liang Xing, LiLang's chief executive officer, said the brand was keen to win customers in Japan, which, despite an economic slowdown, is still a major market for luxury goods.
"The fashion industry and brands in Japan are fully developed, so I would like to use this opportunity in Tokyo to interact with the country. I'm looking forward to collaborate between brands and also among designers," Wang told Reuters.
Home of renowned designers including Issey Miyake and Kenzo Takada, Japan began staging a twice annual fashion week three years ago, as the government and fashion industry seek to dress up Tokyo's image as a global style capital.
(Editing by Miral Fahmy and Rodney Joyce)
© Thomson Reuters 2023 All rights reserved.