China's middle class stampede for luxury handbags
Feb 28 - It could be a queue for a pop concert, a top nightclub or even the opening night at the theatre. But the hundreds of people lined up in a Hong Kong street are actually waiting to bag a bit of luxury.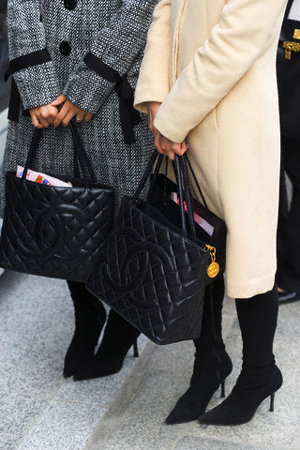 Chanel handbags
"We're looking for new handbags," says student Celeste Law as she queues patiently alongside her friend Karina Luh outside the supermarket-sized branch of Chanel on Hong Kong's Canton Road.
The students, both 20, already sport impressive accessories -- Celeste carries a Louis Vuitton monogrammed bag, while her friend's is from Chanel.
Both work part-time and saved for over a year to buy their trophies.
"We want them because of the famous brand," said Celeste. "What can I say? People will focus on your bag. It's about feeling confident."
Even on a weekday morning, Canton Road is flooded with shoppers happy to pay a small fortune for a luxury tote, shoulder bag or evening clutch in its jumbo designer stores.
Many are from the Chinese mainland, and some even carry suitcases to get their purchases home. The market for such luxury has extended far beyond China's roughly 900,000 US dollar millionaires.
The market is now being driven by China's burgeoning middle class, with the truly rich going ever further upmarket -- happily spending tens of thousands of dollars on the right bag.
Handbag sales for Prada alone grew by over 80 percent in China in 2010, Sebastian Suhl, chief operating officer at the Prada Group, told AFP, while those of the group's Miu Miu brand rocketed by over 500 percent.
"We believe we have only begun to scratch the surface of China's potential," Suhl added.
The brokerage firm CLSA Asia-Pacific Markets predicts China will become the world's largest luxury goods market by 2020, accounting for 44 percent of worldwide sales and bigger than the entire global market is now.
Christina Ko, who blogs at HK Fashion Geek, said the Asian love of the luxury bag has become "a cultural fact. In the same way that Asians prefer rice to potatoes, they also prefer luxury handbags to non-branded ones."
But as customers become more sophisticated, the demand is changing -- bringing those who would previously have bought fakes into the market for the real thing.
"Middle class people are getting the Louis Vuitton bags, and the people who used to get them are now looking for something else," Amanda Lee, who writes the Hong Kong-based blog Fashionography, told AFP.
Zuki Ho, a sales associate and mother, is one of the middle-class buyers boosting the industry: she owns 15 luxury handbags, and once spent HK$40,000 (US $5,135) "double her monthly salary" on a handbag.
She says she loves handbags because "I enjoy being watched on the street when I'm carrying the bag." But she would never buy a fake -- "I'm afraid of being found out," she added.
Fakes remain big business in China, but genuine luxury is bigger.
And while women are a growing force in the Chinese designer market, men are not immune, competing fiercely over the most stylish 'man bag'.
At the second-hand luxury handbag store Milan Station in Hong Kong's upmarket Central district, bags sometimes sell for more than their retail price.
"People always ask for some kind of limited edition, a more expensive bag," supervisor Jackie Lau told AFP. "People don't feel guilty about it (buying a designer bag) because it's like an investment."
Customers can trade in their bags and take to the streets with a new one as often as they like, while those lucky enough to make it onto waiting lists for limited-edition bags can sell them straight to a second-hand store for a profit.
A waiting list is common for a truly coveted bag, with a wait of several months currently the norm for Mulberry's Alexa bag.
The ultimate bag of desire remains the Hermes Birkin, which famously takes 18 hours to make by hand. The crocodile skin version uses the finest sections of hide from four crocodiles.
It costs from $9,000 to an astounding $160,000 for one of the top diamond-studded models, a Hermes spokeswoman told AFP.
Chinese women appeared immune to the "luxury shame" that affected females in other parts of the world during the global economic downturn, the consultancy Bain & Company said last year.
But while handbags are traditionally used to broadcast one's success and good fortune, this too may be changing as more and more women join the designer-toting club.
Lee herself has a denim Chanel bag, a gift from family -- but carries it "so that no one sees the double C (logo)", she said.
"People would know (who the designer was) already if they were really into Chanel, from the shape and so on, but I feel like there's no need to let the entire world know."

by Judith Evans
© Thomson Reuters 2023 All rights reserved.