China's luxury market can be tough to crack
By Astrid Wendlandt and Marie-Louise Gumuchian
PARIS/LONDON (Reuters) - China may become the world's biggest luxury market in some years but cultural challenges to win customers' hearts for certain types of products remain, industry executives said this week.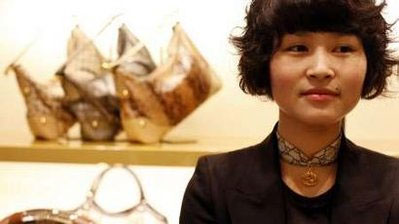 A staff member of the new Gucci flagship store in Shanghai waits for customers on its opening day June 6, 2009 - Photo: REUTERS/Nir Elias
Champagne house Taittinger said it could make high-end sparkling wine in China but the market was not ready for it yet, while Lamborghini said the country's tradition of luxury chauffeurs, bigger than sports driving, made expansion there a challenge.
Jeweller Van Cleef & Arpels, owned by Richemont (CFR.VX), found it tough to get its brand message across, while watchmaker Parmigiani Fleurier worried about finding the right partners.
"The specific challenge about China is finding a Chinese company you can trust and who understands the luxury business," the luxury watchmaker's Chief Executive Jean-Marc Jacot said.
Taittinger said there were many places in China where it could consider making high quality sparkling wine -- champagne can only be made in the northern French region -- but Chinese palates were not accustomed yet to the pricey tipple.
"It is probably a bit early," Pierre-Emmanuel Taittinger said. "There is not a strong (high-end) wine culture there yet."
Hermes, whose chic handbags are hand made in France, would consider making goods in China if it could find artisans to make original items, but said it suffered from counterfeiting there. "Our image is strongly damaged by counterfeits. That is why we are fighting it like hell," CEO Patrick Thomas said. "When they (in China) see a counterfeit, they think it is genuine."
Counterfeits cost luxury groups hundreds of millions of euros in lost sales every year and imitations are becoming increasingly refined and sophisticated.
"The challenge in China is being able to explain to 1.3 billion people what your brand is about," said Van Cleef & Arpels Chief Executive Stanislas de Quercize.
While the number of high-net worth individuals in China is set to continue to rise steadily, the bulk of the country's population cannot afford upmarket Western brands.
"SO MANY CHINESE"
But luxury groups agree that China, where consumers are very brand-conscious, will soon become the industry's No. 1 market and this year will be one of the few emerging markets to enjoy growth.
"China will be one (of), if not the most important market in the middle, long run," Scilla Huang Sun, who runs a $30 million luxury fund for Julius Baer, said. "Chinese will not buy the very high end, like the Russians, but there are so many Chinese ... (They) save a lot and it's a huge country."
Earlier this month, Bernstein said its proprietary survey of Chinese luxury retailers suggested "demand resilience through the first and second quarter of 2009, most notably for mega-brands with high brand recognition."
China has become the number one market for LVMH's (LVMH.PA) Hennessy cognac and the world's second largest for its fashion and leather goods maker Louis Vuitton.
For Lamborghini, it will overtake Italy as the second biggest market behind the United States in three to five years.
"They love what is coming out of Europe. What is European is something they want to possess," CEO Stephan Winkelmann said.
Watchmaker Hublot, in China since January, plans to open 10 shops there by end-2009. By 2012, it would like to see China its third or fourth market after United States, Europe and Japan. "I think there are a lot of people who comment on China as being pictured as the biggest premium market because they see the growth from a very tiny base to a very large base," said Tom Purces, CEO of British luxury car firm Rolls Royce.
"We went from a handful of cars in China to over 100 cars there last year. That's immense in a very short period ... but I don't believe that that growth will be sustained at that level."
(Editing by Rupert Winchester)
© Thomson Reuters 2023 All rights reserved.