China raises pollution charges to clean up lake
BEIJING (Reuters) - More than 1,000 chemical plants will be forced to close around the shores of China's third-largest lake due to an increase in pollution charges following an outbreak of algae bloom earlier this year.
In late May and early June, the giant Taihu Lake was covered in a thick foul-smelling canopy of green algae that left tap water undrinkable for more than 2.3 million residents of Wuxi city and prompted a run on bottled water for days.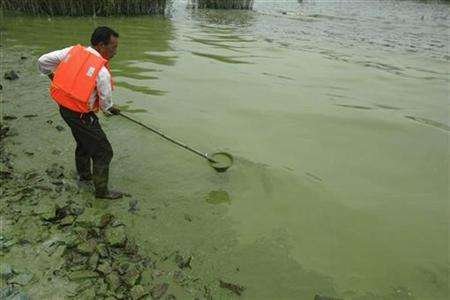 From next year, plants around the lake in the eastern province of Jiangsu will have to pay 10.5 yuan ($1.4) for the discharge of each kilogram of COD, chemical oxygen demand, a measure for pollution, the official Xinhua news agency reported on Monday.
Charges on other plants such as textile and paper-making plants will also be raised, Xinhua said, citing the provincial environmental protection agency.
It did not give the current pollution charges.
"The high prices will force polluting companies to upgrade their treatment facilities and reduce waste," the report quoted agency Deputy Director Zhu Teijun as saying, adding they would force the closure of more than 1,000 small chemical plants.
Algae blooms develop in water rich in nutrients, often because of run-off from heavy fertilizer use, industrial runoff and untreated sewage -- all pollutants in ready supply in many parts of booming China.
Officials have vowed for years to clean up Taihu Lake, but there is little to show for their promises.
(Reporting by Chen Aizhu, editing by John Chalmers)
© Thomson Reuters 2022 All rights reserved.